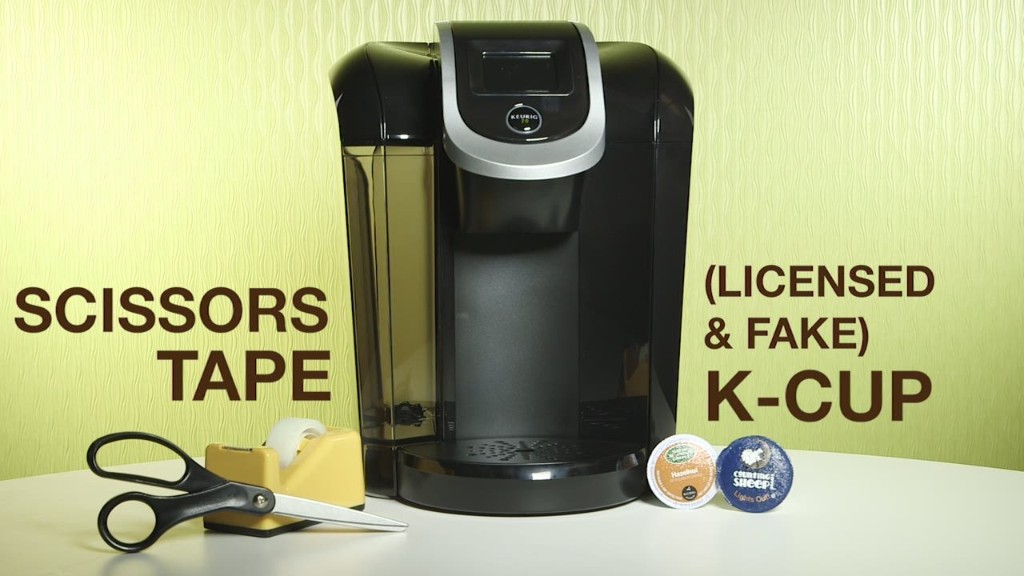 Keurig is trying to reverse its slumping sales with a bold new plan: Soup in a cup, courtesy of Campbell's.
Keurig Green Mountain (GMCR), known for its single-serve K-Cups for coffee and tea, has combined forces with the iconic soup company Campbell's for the new product, Fresh-Brewed Soup in a K-cup.
The companies say the process requires a packet of noodle soup mix and a K-Cup pod of broth that comes in two favors: Homestyle Chicken or Southwest Style Chicken. The packet is emptied into a 12-oz. cup and the K-cup pod is inserted into the Keurig. The machine does the rest.
The companies say it's a 70-calorie treat with no artificial colors or flavors. The soup costs $11.99 for an 8-pack of cups and packets.
"Launching Campbell's into the Keurig hot system marks a milestone as our first expansion beyond beverages," said Mark Wood, chief business development and partners officer with Keurig.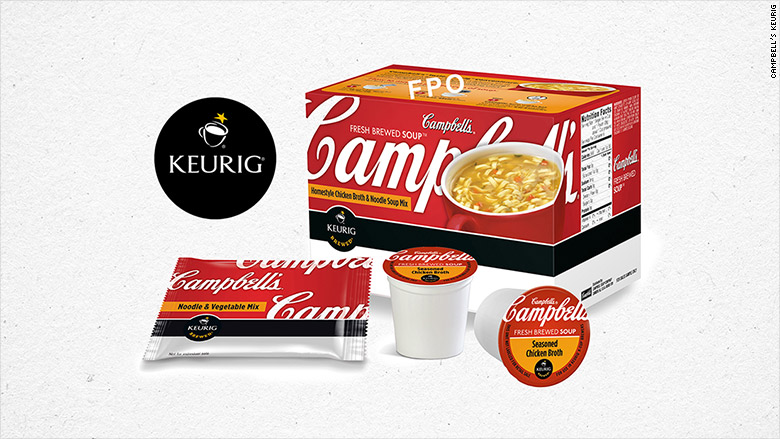 This is Keurig's first foray into food ... officially.
Unofficially, General Mills already produces Progresso soup and Nature Valley oatmeal pouches and pods that can be brewed in a Keurig machine. But on the web site describing its Bistro Cups, General Mills notes that they are "not affiliated with Keurig."
This is an ongoing problem for Keurig, which has struggled for control of its brand.
Related: Keurig knock-offs brew baby food and beer
There's a niche market for non-Keurig producers of Keurig-compatible coffee pods from companies like TreeHouse Foods and Rogers Family Co., which have both sued Keurig, accusing the company of anti-competitive practices.
Keurig's new machine, the Keurig 2.0, sells for $199.99 and can only use officially licensed K-Cups. But Rogers sells a Freedom Clip that allows the Keurig 2.0 to use non-Keurig coffee pods.
In its efforts to stay strong, Keurig has entered into partnerships with Starbucks (SBUX), Dunkin' Brands (DNKN) and Maxwell House from Kraft Heinz (KHC).
Still, Keurig, once a Wall Street darling, has had a tough time selling its K-cups and machines.
Shares have dropped steadily this year, with Keurig losing more than half its stock value year-to-date. The company reported disastrously bad results last month and planned layoffs of 330 workers. Sales dropped 5% in the most recent quarter.
Keurig is hoping that hot soup will save the day. After all, winter is coming.