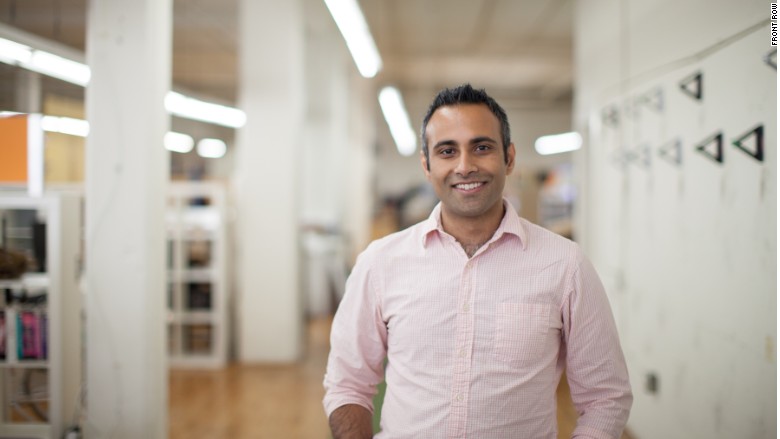 Sidharth Kakkar is obsessed with the idea of making math fun.
The 29-year-old entrepreneur cofounded Front Row, a startup that reimagines how math is taught in school.
The app-based program is a virtual teacher's aide in the classroom, offering one-on-one lessons for K-8 graders and real-time progress reports to teachers.
"Typically in third grade, a bifurcation happens. Students progress in math or they start falling behind," Kakkar said. "If we don't catch the kids that are struggling early, we're doing them a disservice. They'll fall further behind by high school."
Kakkar and his cofounder Alexandr Kurilin became acutely aware of this issue when they spent a month at an inner city school in Baltimore.
"The teacher was writing on the board and the kids were copying it into a book, or memorizing it," said Kakkar.
He quickly realized that teachers had no way of knowing whether students were grasping the concepts or stumbling and falling behind.
Related: Watch out for this all-girls' robotics team
Front Row aims to change that.
To start with, students take a diagnostic test, which determines if they are at grade level, advanced or if they need to practice certain skill sets.
"The app tailors each lesson to each student's individualized needs and they learn at their own pace during the school year," said Kakkar.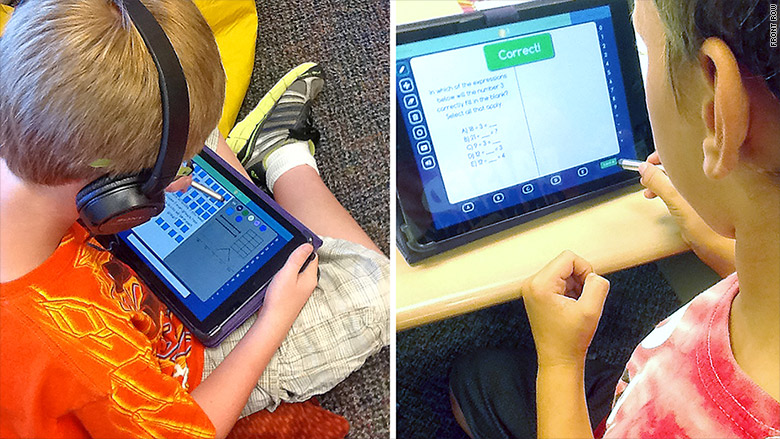 The ability to adapt is one of the app's distinguishing features, said Kakkar. If a third grader is performing at a fifth grade level, it will pick that up and increase the difficulty. It can also identify students' weak spots and tailor lessons to strengthen those skills.
There are video lessons, interactive exercises and a read-aloud function for younger students. Front Row also recently introduced lessons that use real-life scenarios to explain basic math concepts so kids can easily relate to them.
Related: Here's what happened when these colleges ditched SAT scores
Front Row's app launched in September 2013. Today, it's used in more than 25,000 elementary and middle schools in the U.S. by 120,000 teachers. There's a free version for teachers and a subscription version, which includes more data and reports, for school administrators. (Front Row declined to break down how many customers were using free vs. paid versions.)
Teachers get a weekly performance report on each student and also have a real-time dashboard to see how each student is doing, what's easy for them and where they're getting stuck.
"Teaching math has to be about individualized instruction. But that's so hard to do in a class of 20 or more students," said Ann Elise Record, a K-5 math coach in Berlin, New Hampshire.
Her school started using Front Row for some of its classes a few years ago. Now, 70% of students are meeting their goals, up from 43% earlier (the school implemented some other changes to classroom instruction along with the app).
Related: Here's the difference between you and the class of 2019
Julie Brackx, a third-grade teacher in Escondido, California, said the app has leveled the playing field in her class. Kids use the app on iPads in her class.
"With math, kids are often embarrassed to ask the teacher for help," said Brackx. "My dashboard tells me who is weak and who's strong. I can pair those students together and they can help each other."
Brackx said her class' math average improved noticeably after she introduced the app last year.
"There's a huge emphasis on STEM teaching because that's where the jobs are in the future. Math is essential to this," said Record. "We need to remove phobias about math because it is everywhere. You can't avoid it."