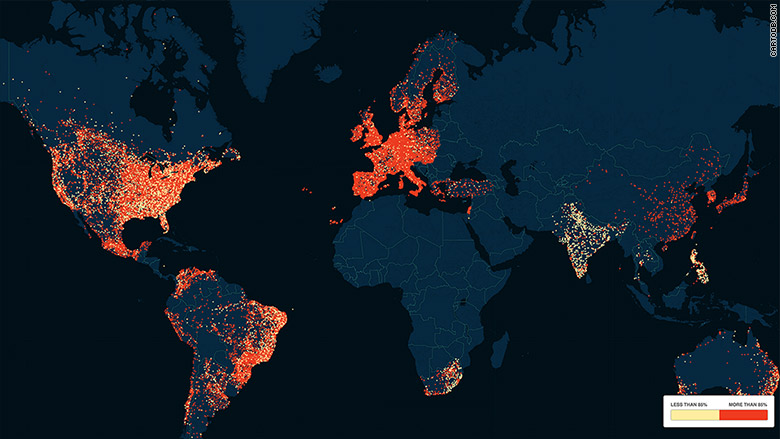 Big data is the future. And online mapping firm CartoDB is, quite literally, banking on it.
The startup, which launched in 2012, takes in real-time data and spits out comprehensive map visualizations.
The maps created by CartoDB are as diverse as the different types of data out there. The firm can create maps showing everything from where the hacked Ashley Madison users lived to how the hashtag #JeSuisCharlie spread across the world.
On Thursday, the company announced a fresh new round of $23 million in funding led by Accel Partners, along with Salesforce Ventures, Earlybird Ventures and Kibo Ventures.
Javier de la Torre and Sergio Álvarez-Leiva -- both Spanish scientists -- started the cloud-based SaaS firm with the intention of helping companies understand all the data points they are already sitting on.
"There's a ridiculous amount of data being generated," said de la Torre. "Very few organizations take advantage of that data."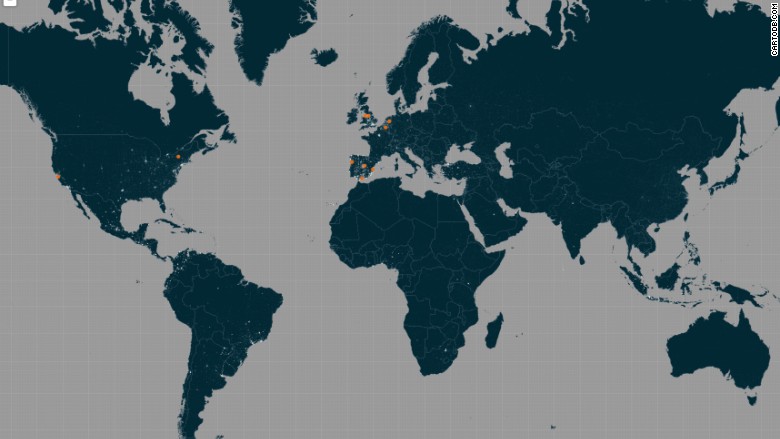 CartoDB's original product required basic mapping knowledge to operate -- but in July, the company released a One-Click Mapping feature that lets anyone create a map. Once you upload a set of data, it sifts through it and makes visual sense of it within seconds. Then, you have the option to annotate it.
Individuals can use it for free -- or pay up to $299 a month for additional features. The enterprise plan starts at $9,900 a year.
Related: CNNMoney's Upstart 30
Some 1,000 companies are among its clients, including Amtrak, Deloitte, Google (GOOGL) and Twitter (TWTR). They're all using it to understand trends and patterns from the data they collect every day. Many layer different data sets -- both public and proprietary -- for internal or external use.
Cities around the world are also clients. After all, mapping can help understand how neighborhoods are changing over time and assist in city planning. Layering census data about population density with data from Airbnb or Uber, for instance, could show shifting trends in housing and transportation.
The funding -- which brings CartoDB's total to $31 million -- will go toward continuing to improve the product and acquiring more users, both individuals and companies.
"We are always doing research to provide better analysis for our customers," de la Torre said.