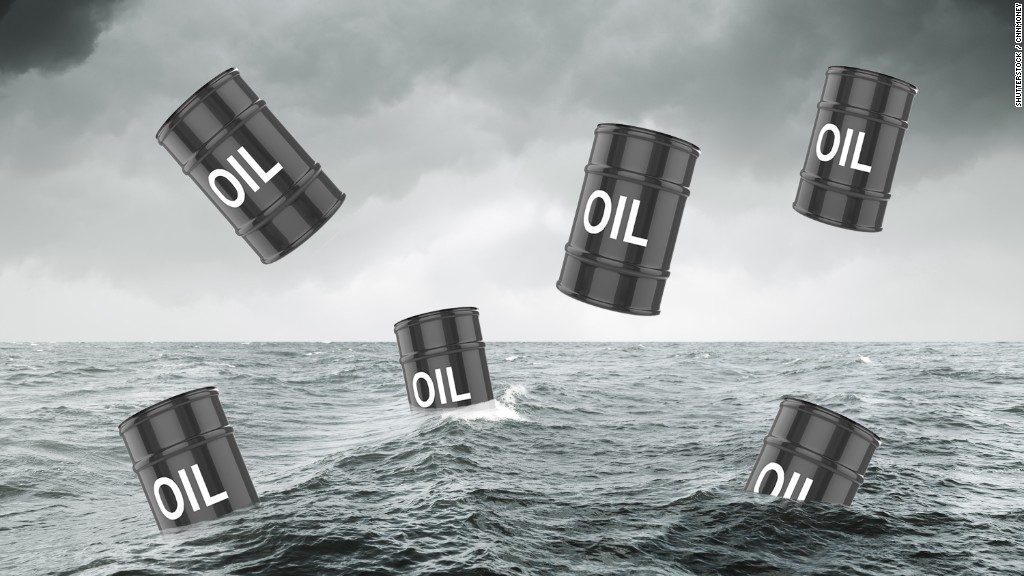 Forget $40 a barrel oil. Prices could plummet to $20 as a massive supply glut persists until the end of next year.
That's the view of Goldman Sachs, which published an oil report Friday headlined "Lower for even longer."
The bank's commodities team slashed its forecast for average prices in 2016 to $45 per barrel from $57, but said the risks of a collapse to $20 were growing.
Here's why.
1. OPEC will pump even more oil in 2016, led by increases in Saudi Arabia, Iraq and Iran. Goldman Sachs believes the cartel's resolve to defend its market share has been strengthened in recent weeks.
"Despite the fiscal challenge that low oil prices create for OPEC producers, the alternative of reducing production would similarly undermine long-term revenues," it noted.
Prices will have to fall much further for OPEC to consider cutting production.
Related: What Iranian want: U.S. vacations and German cars
2. Producers outside OPEC, including U.S. shale oil companies, are proving more resilient to lower prices than expected. That's because the cost of production is falling globally, because of greater efficiency and sharp declines in other commodity prices.
Goldman Sachs says there will need to be a large decline in non-OPEC production next year, and much of that adjustment will have to come from the U.S.
But there's a growing risk that U.S. producers will act "too late or not at all" because their finances are in better shape than in the past, and because of a deeply entrenched view that the world will need more shale oil -- not less -- within a couple of years.
Related: U.S. oil is about to get squeezed even more
3. Growth in global demand for oil will slow next year. That's largely due to China's economic slowdown, which will hurt other countries, particularly those that rely heavily on commodity exports.
And there's another reason to believe prices could fall much further before the oil market achieves a better balance. The collapse in prices from around $100 per barrel last year helped shore up demand in 2015, but that factor will fade.
"Not only is emerging market growth slowing, but the benefits from lower prices are most likely behind us, as our ... modeling shows that they typically last 9-12 months," Goldman Sachs noted.