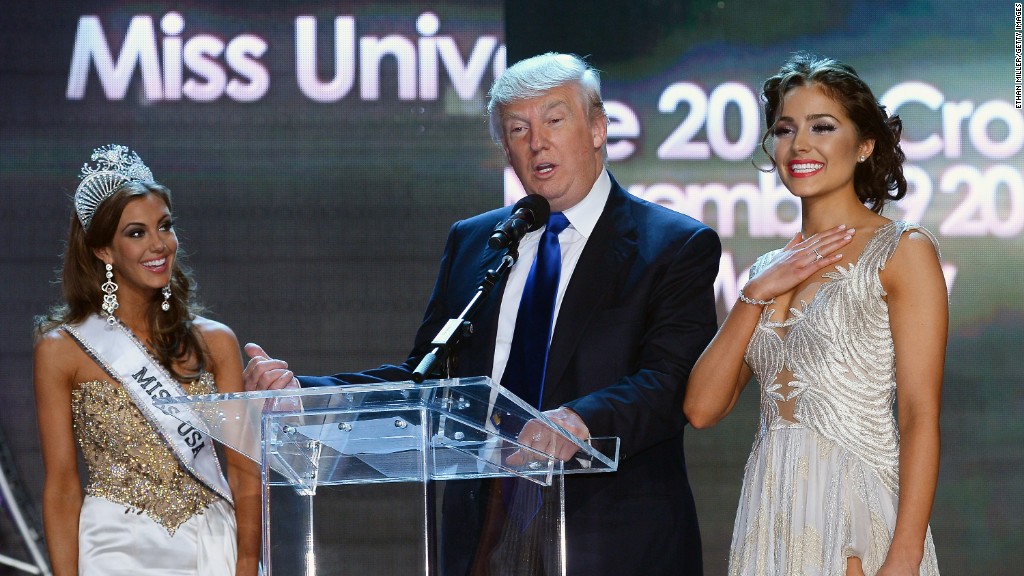 Donald Trump took to social media on Friday to announce that he had just purchased NBC's half of the Miss Universe Organization, which orchestrates the annual Miss USA and Miss Universe pageants.
"Now own 100% -- stay tuned," Trump tweeted.
An NBC spokesperson confirmed the transaction but would not disclose any details, such as the price Trump paid.
The business mogul and 2016 presidential candidate also said that he "settled all lawsuits" against NBC.
Trump's company had previously said that it was going into arbitration with the network over an alleged breach of contract.
The alleged breach was the network's decision to cancel July's telecast of the Miss USA pageant and end its business relationships with Trump.
NBC and Trump had been in business since 2002, when they struck a deal to jointly own and operate the beauty pageant organization. Separately, Trump also hosted NBC's popular reality show "The Apprentice."
NBC was one of several companies that broke off ties to Trump amid widespread outrage about his depictions of Mexican immigrants. In his presidential announcement speech in June, he said "they're bringing crime. They're rapists," before adding, "Some, I assume, are good people."
Univision, the other American broadcaster of Miss USA, subsequently backed out of its plan to televise the pageant.
Then NBC did the same thing.
Trump filed a $500 million lawsuit against Univision that is still pending.
But he never sued NBC. Trump's general counsel Alan Garten told CNN in July that the joint venture agreement had "an arbitration clause."
"We will obviously be following the contract" by seeking arbitration, Garten said at the time. "I think that sort of represents the difference between how we, as an organization, act and how NBC has acted. We follow the contract; they have not."
In August, an NBC executive said the network was "almost done" unwinding its deal with Trump.
For the network, it was a no-brainer, since Miss Universe only represents a very small part of NBCUniversal revenues.
Trump's financial disclosure forms indicated that the joint venture was worth between $5 million and $25 million. The pageant organization generated $3.4 million in income for him in 2014.
Now that he owns 100% of it, Trump will have to find a new television partner for both Miss Universe and Miss USA.
July's Miss USA pageant was abruptly shifted over to the Reelz cable channel, where it found just 925,000 viewers, a fraction of the total it would have had on NBC.
Trump's announcement about the transaction came on the same day he'll be visiting NBC's Rockefeller Center headquarters.
He'll be on NBC Friday night when he makes a guest appearance on "The Tonight Show with Jimmy Fallon."