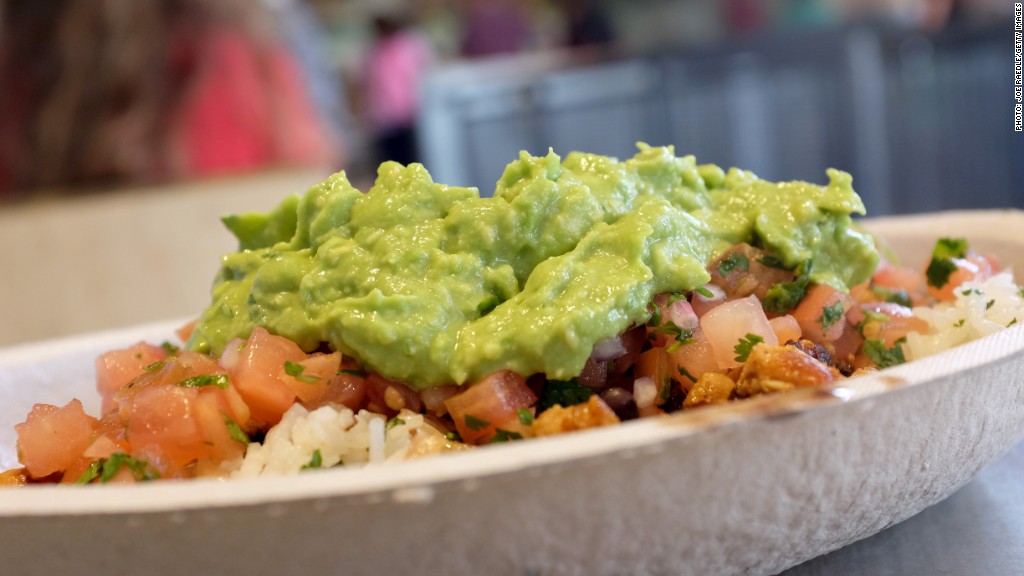 Chipotle is set to make good on its goal to hire 4,000 workers in a one-day burst of interviews.
The company said preliminary numbers show its restaurants hired 1,800 workers during a heavily promoted hiring spree held Wednesday. Another 2,400 applicants were asked back for second interviews.
"With those still in the process, and a group of restaurants yet to report, it looks like we will meet the goal to hire 4,000," said a Chipotle (CMG) spokesperson.
Hiring 4,000 workers will boost the company's workforce by 6.7%. The company is opening between 190 and 205 restaurants this year, according to its public filings, adding to its current portfolio of more than 1,800 locations.
The company filtered out many of the aspiring burrito assemblers. Chipotle said that 60,000 people had registered on its online application at NationalCareerDay.com.
"Through this process, it was important that we not lower our high standards, and that our managers stayed focused on finding candidates who have the '13 characteristics' we look for in new hires," said the spokesperson. "You either have them or you don't."
So what are the 13 characteristics? Chipotle lists them on its site: motivated, respectful, curious, presentable, honest, polite, smart, ambitious, hospitable, conscientious, high energy and happy. Applicants must also be "infectiously enthusiastic."
That's what it takes to get an entry-level job for $10 an hour with a 401(K).
Related: Times Square billboard mocks higher pay for fast food workers
The new crop of Chipotle workers will eventually be getting more than that if they work in New York state. On Thursday, the state finalized a plan to increase the minimum wage for fast food workers to $15 an hour by 2021, from its current minimum of $8.75. In New York City, workers will reach $15 by the end of 2018.
This summer, Chipotle also started offering all employees access to paid vacations and tuition reimbursements. Over the past year, Chipotle promoted 10,000 entry-level workers to management positions.
Some companies, including Starbucks (SBUX) and McDonald's (MCD), recently hiked wages in the face of a shrinking job pool for fast food workers.