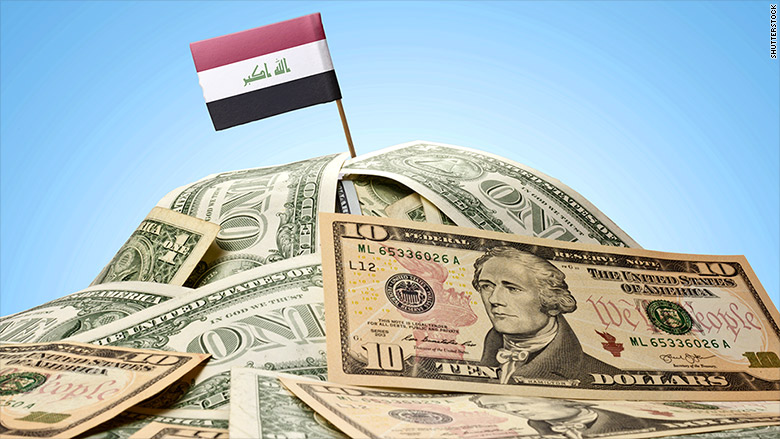 Looking to spice up your portfolio? Try investing in Iraq.
The oil rich country is hoping to borrow $6 billion from international investors, and could sell the first slice of bonds worth $2 billion as early as this week. It has been trying to drum up investor interest over the past few days.
If the bond offering is successful, it will be the nation's first debt offering since 2006.
But investing in these bonds is only for those with nerves of steel. The country is wracked by political instability, a large swath of its territory is now controlled by ISIS, and oil prices have collapsed.
Iraq's economy is almost entirely dependent on oil exports and the slump in prices has wreaked havoc on its finances.
Unsurprisingly, investors who are willing to take the risk will expect high returns. According to boutique investment bank Exotix Partners, the yield on Iraq's existing bonds -- maturing in 2028 -- could rise to 12.5% as prices continue to slide.
The country's debt is rated as junk by both Standard & Poor's and Fitch. And their analysis of the situation is grim.
"Political risk and insecurity are among the highest faced by any sovereign rated by Fitch," wrote analysts at the ratings agency.
They estimate Iraq's budget deficit will exceed 10% this year due to weak oil prices, the cost of war and civil conflict.
Related: Iraq is pumping more oil than ever
But if you expect the situation has already hit rock bottom and oil prices will soon rise, this may be a bet worth taking.
"Iraq benefits from massive oil reserves and high oil exports. Projected large increases in oil production will, in our view, support economic growth and help alleviate fiscal and external pressures over the medium term," noted Standard & Poor's analysts.
Iraqi representatives will be in Boston and Los Angeles this week to present their investment case. They were in London last week.
Related: Saudi Arabia is having to borrow money
--CNN's Schams Elwazer contributed to this report.