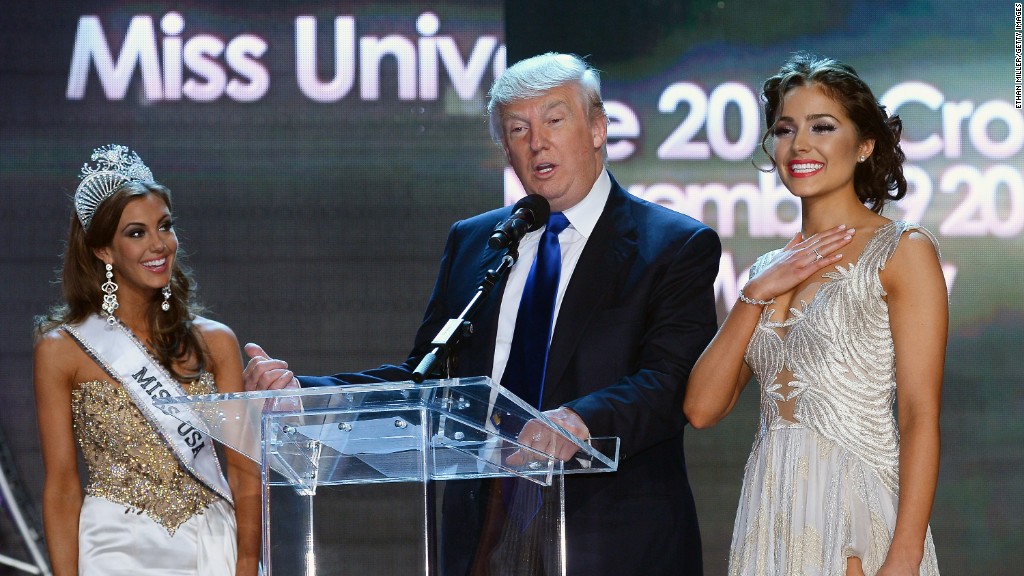 Donald Trump has agreed to sell the Miss Universe Organization to talent agency and marketing firm WME-IMG.
Trump is flipping the pageant business less than a week after he purchased the 51% stake he didn't already own from NBC Universal, ending a 13-year partnership.
Along with the Miss Universe competition, the company also runs Miss USA and Miss Teen USA.
The purchase price was not disclosed.
Trump's partnership with NBC began to unravel in June following Trump's inflammatory comments about Mexican immigrants. In his presidential announcement speech in June, he said "they're bringing crime. They're rapists." He then added, "Some, I assume, are good people."
In the wake of those comments, NBC and Univision refused to air July's Miss USA pageant, which was abruptly shifted over to the Reelz cable channel. It found just 925,000 viewers, a fraction of the total it would have had on NBC.
Trump filed a $500 million lawsuit against Univision. That lawsuit is still pending.
Trump's comments about Mexican immigrants have cost him other business relationships as well.
Mattress giant Serta ended its relationship with Trump, a deal that had appeared to earn Trump between $1 million and $5 million, according to financial disclosures Trump filed for his presidential bid.
And Macy's pulled Trump brand merchandise from its stores. Trump Marks Menswear, LLC was valued at between $50,000 and $100,000 and generated between $1 million and $5 million in income, according to the disclosures.
The disclosure forms indicated that the joint venture was worth between $5 million and $25 million. Miss Universe Organization generated $3.4 million in income for Trump in 2014.
Talent agency and media company William Morris Endeavor Entertainment (WME) partnered with private equity firm Silver Lake to buy sports marketing firm IMG in December 2013. The combined company is WME-IMG.