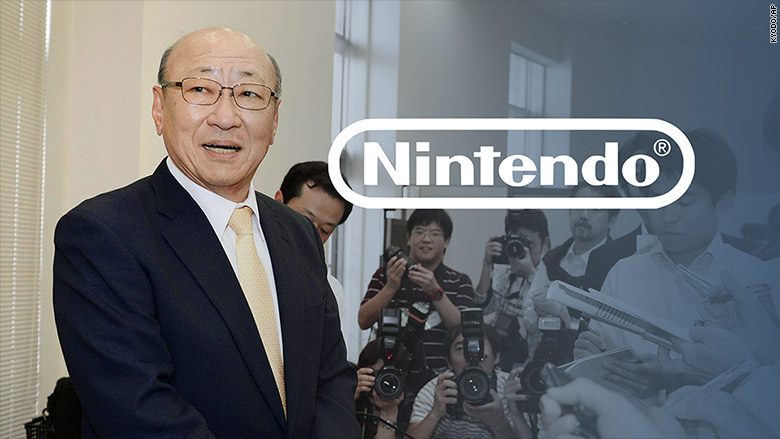 On Monday, Nintendo's board of directors voted in a new president -- keeping the video game company stable as it seeks a big change of direction.
They appointed Tatsumi Kimishima, a long-time Nintendo financial executive who spent most of his career stationed in the United States.
The hope now is that this bean counter -- with an intimate understanding of the Americas -- will keep the company stable as it undergoes a major shift to mobile games.
Nintendo (NTDOF) has been struggling to keep up with competitors. Its latest console, the Wii U, was a dud. Nintendo game computer graphics seem stale. And its multiplayer online community isn't nearly as immersive as those on the Sony (SNE) PlayStation and Microsoft (MSFT) Xbox platforms.
Over the past decade, Nintendo has stuck to what it does best: family-friendly games for a box under your TV.
And that's starting to feel like a lack of innovation.
The man who oversaw Nintendo during this era was Satoru Iwata, a young computer-programmer-turned-executive. He was a creative type, and to fans, he represented the soul of a company that gave them Super Mario, Pokémon and Princess Zelda.
Nintendo suffered an unexpected loss when Iwata died in July at 55 years old. His incoming replacement is all business.
Kimishima was a banker for nearly three decades. He joined the Nintendo empire in 2000 as chief financial officer of the Pokémon Company, which oversees everything relating to those cute, little, mythical creatures.
Then came his stint as CEO of Nintendo of America, in which Kimishima oversaw the launch of the wildly successful Wii in 2006. It sold 48.6 million units in the Americas alone.
In recent years, Kimishima has been the company's point-of-contact for investors and financial analysts.
He's not a "gamer's gamer," as Iwata was considered. Kimishima represents financial stability as Nintendo enters a new frontier: mobile and Internet-based gameplay. Nintendo's first mobile game is coming this year.
Indeed, the company's announcement on Monday says as much.
"We aim to strengthen and enhance the management structure of the company following President Satoru Iwata's passing," Nintendo said in its announcement. And also expect "a large-scale revision of the organizational structure of the company."
Kimishima's reign officially starts this Wednesday.