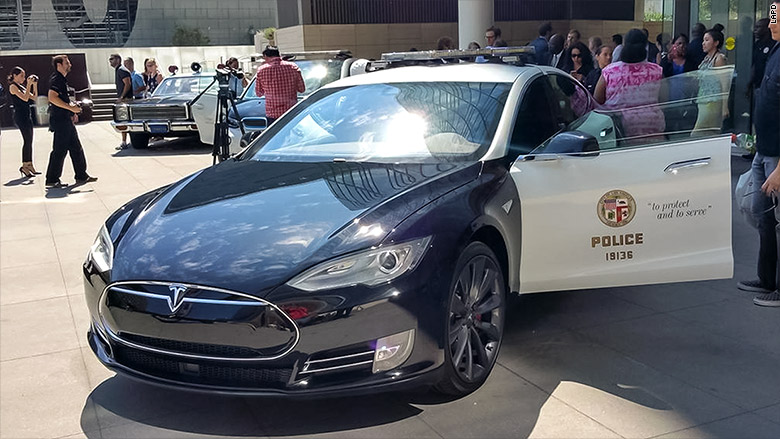 The LAPD's fleet of patrol cars is getting quite an upgrade.
The Los Angeles police department has been loaned a Tesla (TSLA) Model S P85D, the all-wheel drive car that can accelerate from 0 to 60 in just over 3 seconds. The starting price for the car is normally $105,000.
The department is also being loaned a BMW i3, a plug-in electric version of that German luxury car that starts at $42,400.
The city said the two high-end electric police cars will be used for testing and research by LAPD technical experts to determine how electric cars can support their future needs.
Related: New Tesla earns perfect score from Consumer Reports
The city says it plans to lease 160 pure electric vehicles of different makes and models, which will make it the nation's largest fleet of electric vehicles. It declined to say which vehicles it will purchase. The announcement came ahead of the U.S.-China climate leaders summit, which will be held in the city starting Tuesday.
"Today, we take another step toward becoming the most sustainable city in America," said Mayor Eric Garcetti.
The electric vehicles will be used by a variety of departments beyond police, including the fire department, general services, water and power. The city will also get 128 plug-in hybrid vehicles which can run on electric batteries or gasoline.