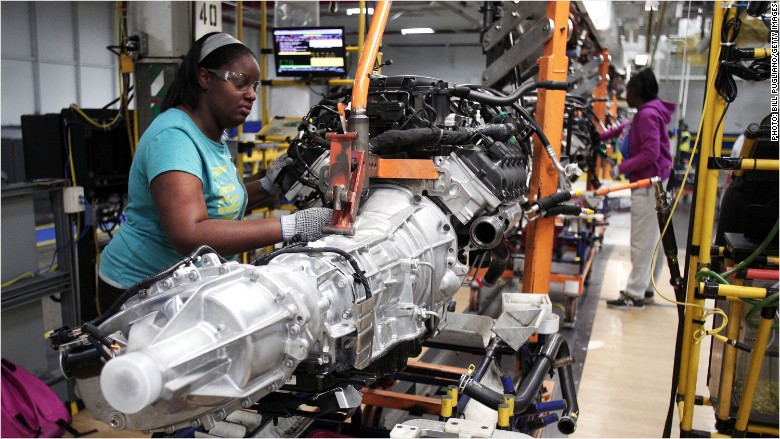 The United Auto Workers union and Fiat Chrysler said Tuesday evening they had reached a "tentative" labor deal nearly a day after their talks had gone into overtime.
The UAW contract had expired at 12:01 a.m., but the two sides agreed to keep extending it every hour while they continued to negotiate.
Terms of the new contract were not made public by the two sides as a joint press conference in Detroit. The proposed deal now must go before workers to be ratified.
Negotiators worked through much of the day Tuesday to hammer out a deal. Fiat Chrysler CEO Sergio Marchionne passed up the Frankfurt auto show to be at the talks.
The UAW represents 140,000 hourly workers at Fiat Chrysler (FCAM), General Motors and Ford Motor. The UAW, after reaching a deal with Fiat Chrysler, aims to then use that contract as the basis for subsequent deals at GM (GM) and Ford (F).
Veteran union members get about $28 an hour but haven't gotten a raise in their hourly wage since 2005. And their benefits and job protections have been weakened because of last decade's problems in the auto industry.
But U.S. car sales are now nearing record levels and the traditional Big Three are profitable again. The workers want raises.
Related: Here's what auto workers want
About 40,000 of the hourly workers have been hired since 2007 and are paid on a lower wage scale, and without the same health and retirement benefits, as the veteran workers. Pay for those workers tops out at about $20 an hour. The union has said it wants to eliminate or at least narrow the gap between the two tiers of workers.
Fiat Chrysler uses more of the lower paid workers than either Ford or GM, but Marchionne has said publicly he doesn't believe the two tiers are sustainable.
"There can't be two classes for people who do the same work," Marchionne reportedly said in January. "It's impossible. It's almost offensive."