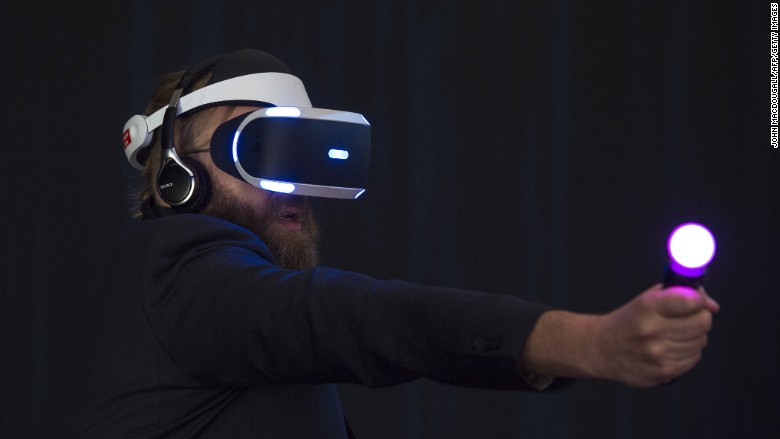 PlayStation VR is now the official name for Sony's upcoming virtual reality headset.
It sounds unoriginal, but it's fitting. The large black goggles -- which, until now, were codenamed "Project Morpheus" -- will pair up with the current PlayStation 4 console.
Sony (SNE) made the announcement on Tuesday, just before the start of the annual Tokyo Game Show video game conference.
The bulky prototype design hangs over the eyes and blocks all outside light -- completely immersing a player in a game. Inside, there's a 5.7-inch OLED display screen with 1920 x 1080 resolution. And images get refreshed at a wickedly fast 120 frames per second.
There's no telling yet if users will experience the same sort of sickening, dizzying feeling that plagues virtual reality headsets right now.
The company has been showing off the hardware, but it's not expected to go on sale until maybe 2016.
Sony software design executive Masayasu Ito explained why they went with the obvious name choice.
"We want our users to feel a sense of familiarity as they enjoy this amazing experience," Ito said. PlayStation VR "allows players to feel as if they are physically inside the virtual world of a game."
And expect a seamless experience with the latest console. The PS4 and PlayStation VR were developed at the same time, so "they work really closely together," a Sony gaming executive told CNN in July.
It's only competitor right now is the Oculus Rift, whose eponymous maker was bought by Facebook last year. It's coming out in early 2016.
So, just like Android v. Apple, we now have a name to cling to for the upcoming virtual reality device battles: Oculus v. PlayStation VR.