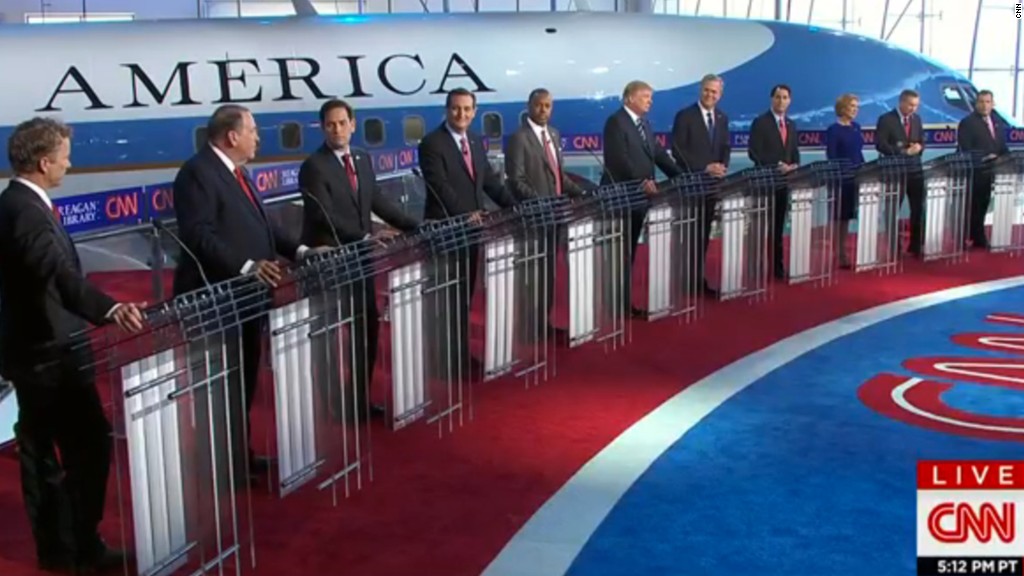 Passion, poise and a willingness to confront opponents was the name of the game at Wednesday night's Republican primary debate, and no one capitalized on the opportunity more than Carly Fiorina.
The CNN debate was a major departure from the first showdown last month in Cleveland, where a bombastic Donald Trump played off the energy of a thunderous arena-sized crowd, and candidates defended themselves against an aggressive panel of moderators.
Wednesday night's debate was largely focused on the issues. The crowd was small, and the moderators largely stayed out of the picture to let the candidates talk amongst themselves.
In such a setting, it was Trump who came across as low-energy -- a slight he has used to characterize Jeb Bush -- or at least lower energy than usual. He began with his usual broadsides, issuing an unsolicited attack on Rand Paul's right to be on stage and his appearance.
But as soon as the debate turned to policy issues, Trump toned everything down. For the first time since he launched his campaign three months ago, he seemed like just another candidate rather than the main attraction.
Trump himself acknowledged the shift: "I think I wanted to be a little bit more low-key," he told CNN immediately after the debate. He asserted that his strategy worked, citing The Drudge Report's informal poll of viewers, which had him ranked #1 in the minutes afterward.
But many observers felt differently. "Remember Donald Trump?" The New Yorker's Ryan Lizza tweeted during the debate. "Trump seems kind of low energy the longer this goes on."
Perhaps Trump was just trying to hold onto his lead and avoid gaffes.
"The Fox debate focused on Trump, and Trump is amazing at talking about Trump," Vox's Ezra Klein observed. "The CNN debate is focused on issues, and Trump is much weaker."
"I think it is further proof of why Donald Trump won't be nominee," Stuart Stevens, a chief strategist on Mitt Romney's 2012 campaign, told CNN.
But if Bush supporters were counting on the former Florida governor to capitalize on the opportunity and take on Trump, they were surely disappointed. Bush was cautious in his attacks on Trump, and lacked the passion his supporters and donors were surely hoping for.
Instead, Fiorina rose to that challenge: Concise and confident, the former Hewlett Packard CEO countered Trump's attacks against her business acumen and demonstrated her in-depth knowledge of foreign policy. Few moments generated as much applause from the audience as Fiorina's attacks against Trump.
Most triumphantly, Fiorina challenged Trump's remarks about her appearance, after he said to Rolling Stone, "Look at that face. Would anyone vote for that?"
"I think women all over this country heard very clearly what Mr. Trump said," Fiorina said.
According to Twitter, this was the most-tweeted moment of the debate.
The television and Twitter reaction to the debate seemed to favor Fiorina. Commentators expressed doubts about Trump.
While Trump "took some punches," CNN contributor Kevin Madden said on the air, Fiorina "knocked the ball out of the park," another contributor, Mike Rogers, said.
A Frank Luntz focus group on Fox News showered praise on Fiorina, and showed some voters who arrived supporting Trump left supporting Fiorina.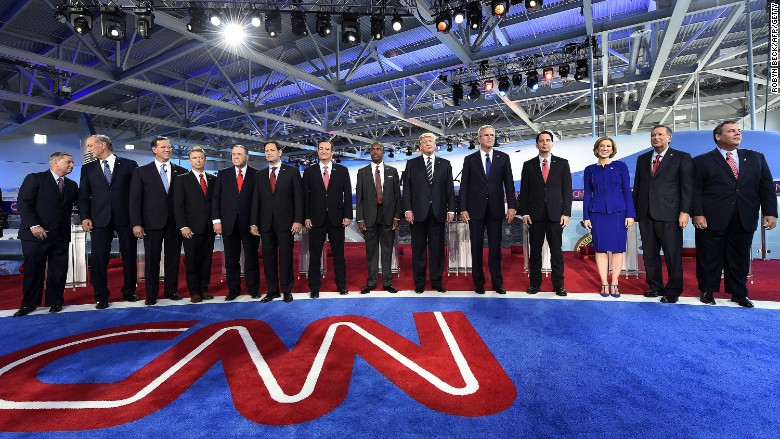 CNN's goal from the beginning was to get candidates to engage with one another. Much of the debate was shown in split-screen, giving many of the exchanges the feel of a one-on-one bout. That rewarded the candidates who were willing to go head-to-head with their rivals.
For the questioners, the primary challenge seemed to be wrangling the 11 candidates and keeping them to time. "Jake? Jake? Jake?" was an oft-repeated phrase among candidates looking for permission from moderator Jake Tapper to address an issue.
Tapper and his colleagues Hugh Hewitt and Dana Bash sometimes conceded the time, befitting their desire to give candidates the stage.
Other times Tapper repeatedly said "thank you" in order to cut off the candidate and move on.
Notably, the candidates rarely jabbed the questioners or objected to the questions.
The 8 p.m. to 11 p.m. debate is projected to be the highest-rated program in the history of CNN, surpassing the prior record of 16.8 million viewers set back in 1993 when Al Gore and Ross Perot debated NAFTA.
The prime time portion of Fox's debate last month had 25.1 million total viewers.
The TV ratings will come in on Thursday. But on Wednesday night CNN's live stream gave an early indication of the intense interest in the event.
Around 9:40 p.m., halfway into the debate, CNN's web site had 920,000 concurrent viewers, which is by far the biggest online audience for a debate.
Analysts said that in some ways the 6 p.m. undercard debate, which included just four candidates, allowed for much more engaged debates.
"It's a lot easier with a lot fewer people," Rick Santorum, one of the undercard candidates, told CNN after his debate. "Maybe it'd be better to break it up into 7 and 7."
Brian Stelter contributed reporting from New York.