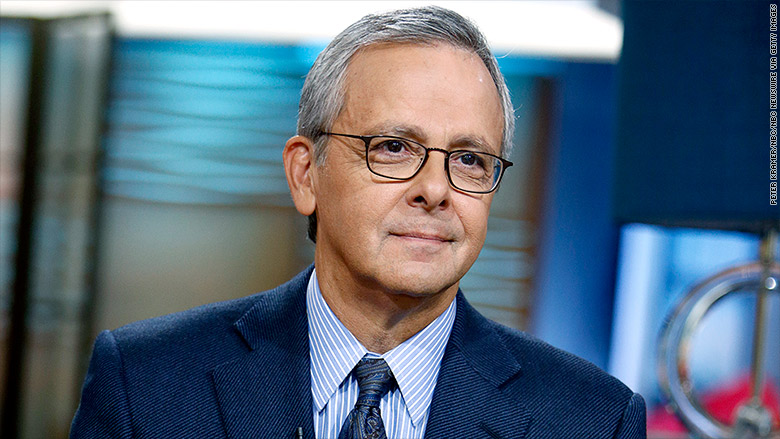 Mike Lupica, the veteran sportswriter who has been a fixture in New York media, is leaving the newspaper that has published his work for more than three decades.
A source close to the paper confirmed to CNNMoney that Lupica is among those affected by the latest series of layoffs at the New York Daily News, the money-losing tabloid that faces an increasingly nebulous future. The source said that Lupica's departure was the result of a "contractual issue."
The Daily News has been seeking to cut costs, and Lupica was one of the highest-paid names at the paper.
A spokesperson for the Daily News declined to comment, but a number of others -- possibly dozens, according to the source -- were also laid off on Wednesday.
Efforts to reach Lupica were unsuccessful.
His long career in sports media began at the age of 23, when he covered the New York Knicks for the New York Post. Lupica joined the Daily News in 1977, and has since become one one of the most famous sportswriters in the country.
Related: New York Daily News parts with top editor
He has also been a near-constant presence on ESPN, where he's appeared as a regular on the Sunday morning program "The Sports Reporters" for years. Lupica had also hosted a radio show on ESPN New York, but the company announced last month that his program would be replaced.
The news of the layoffs and Lupica's departure was first reported by Politico Media, which noted that Daily News sports editor Terri Thompson is also among those leaving the paper.
On Wednesday afternoon, Daily News columnist Bill Hammond announced on Twitter that it's his last day there.
The exodus comes on the heels of last week's announcement that Colin Myler will leave the Daily News as editor in chief, yet another sign of turbulence at the newspaper. Daily News owner Mort Zuckerman tried to sell the paper earlier this year, but he was unable to find a buyer.