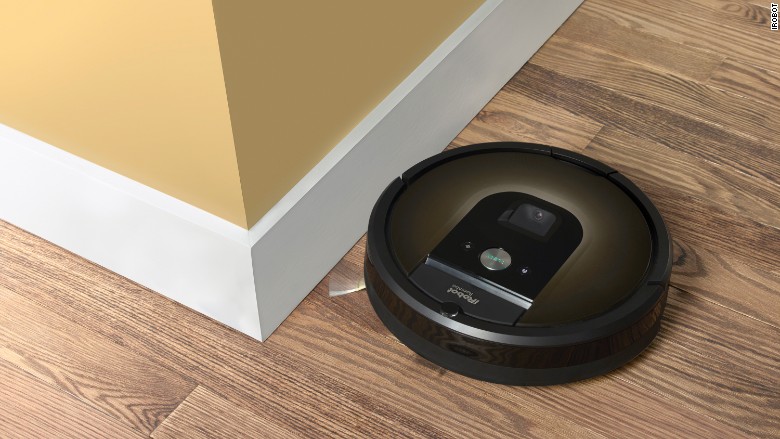 One of the hardest working home gadgets is trying to catch up with the times.
On Wednesday, iRobot (IRBT) announced a new version of the Roomba, its popular robotic vacuum. The 13-year-old device is making its first foray into the Internet of Things with a smartphone app.
iRobot says the third generation Roomba also has a more powerful vacuum and is more efficient at cleaning. Using new programing, a built-in camera and an infrared sensor, the Roomba 980 moves differently than previous versions, creating a temporary map of what areas it's already visited so that it misses fewer spots. It has a longer battery life and will cost $899 (earlier models range from $399 to $699 and will still be available).
The familiar thick gray disc has the basic external design as previous models with a few tweaks to the buttons on top. iRobot says it's settled on the shape and size because it's small enough to slip under couches but not so tiny that it gets caught in tight spaces.
The Roomba was one of the first high-tech home products to really take off. It was so early that it predated the connected "smart" home trend. Since the first Roomba was released in 2002, thermostats, door locks, and light bulbs have jumped online and come out with their own smartphone apps.
Smart home fans have been unable to control the Roomba from their phones. The new iOS and Android app connects with the Roomba over the Internet using built-in WiFi. It lets you start or schedule cleanings, get notifications when it's stuck or full and troubleshoot any problems from anywhere using your phone.
It's still not designed to work with other connected devices or smart home systems like SmartThings or Apple's HomeKit, though iRobot is keeping an eye on the field. The app only works with the newest Roomba, not older versions.