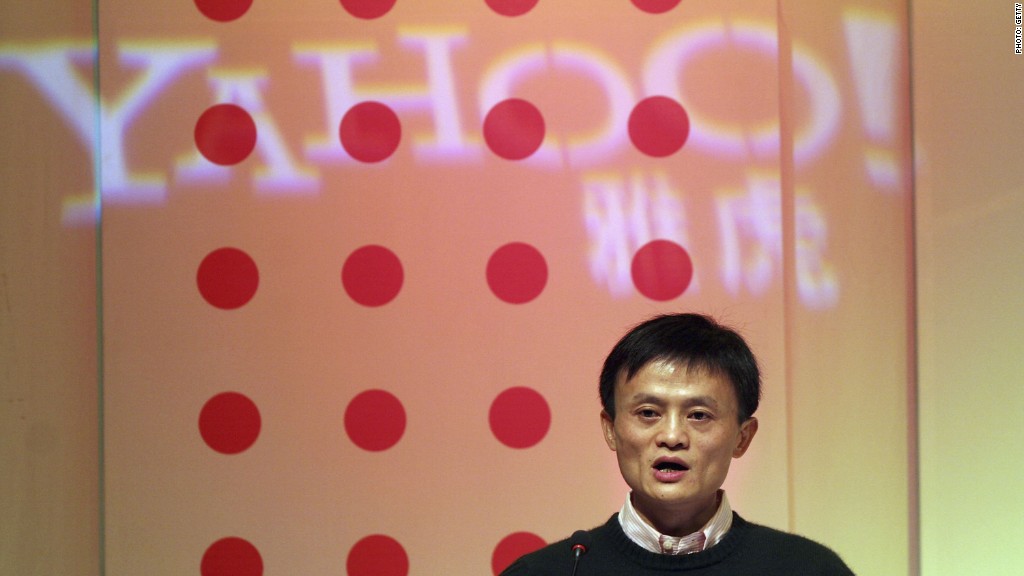 Alibaba founder Jack Ma has a simple recipe for happiness: Focus on your friends, don't worry too much about money, and -- this is the big one -- never take your company public.
Oh! If only Ma had taken his own advice. It's been one year since Alibaba listed on the New York Stock Exchange in the biggest IPO ever. Despite a strong start, shares have been absolutely hammered in 2015.
At one point, Alibaba (BABA) had a bigger market value than Walmart (WMT) and Amazon (AMZN). Now, its shares are down 45% from their Nov. 15 peak and trading below their $68 initial price.
"If I had another life, I would keep my company private," Ma said earlier this year. "Life is tough when you IPO."
Tell that to the investors! $1,000 in Alibaba shares purchased at the start of 2015 are now worth only $635.
Here's what analysts are worried about:
China's economy: Alibaba shares have been hit by worries about China's slowing economy and stock market volatility. E-commerce is still Alibaba's core business, and any slowdown in consumer spending will take a bite out of the company's growth.
The other guys: Alibaba faces increased competition, particularly from JD.com (JD), which is backed by Chinese mobile giant Tencent (TCEHY) and Saudi Prince Alwaleed bin Talal.
Counterfeits: Ma and his fellow executives have promised to root out counterfeit products that are being sold on Alibaba's various platforms.
But they may not be moving quickly enough: Gucci has sued the company (twice). And in early 2015, even Chinese regulators took Alibaba to task over fakes.
Related: Alibaba fights back against negative magazine story
Big spending: Alibaba has been on a major spending spree, pouring money into acquisitions and partnerships. Some of the investments are paying off. Others... not so much. Does Alibaba need a stake in a soccer team or a struggling entertainment studio? Investors would rather see Ma focus on core business.
Corporate governance: Alibaba chose to list its shares in the U.S. instead of Hong Kong because the city's exchange was concerned about how much control Ma and other partners have over the company's board.
The company hasn't done much since going public to address those worries.
Intense scrutiny from investors and Wall Street analysts is unlikely to ease. Alibaba, however, has always preached patience -- company executives frequently say Alibaba is "customer first, employee second, shareholder third."
There are plenty of other reasons to be optimistic: Alibaba has a dominant position in one of the most lucrative markets in the world. The company's leadership has delivered again and again.
As for Ma? He's still one of the world's richest men -- not that he wants to be.
"People say, 'Well Jack, rich people is good.' Yeah it is good, but not the richest man in China. It's a great pain because when you're [the] richest person in the world, everybody [is] surrounding you for money," he told CNBC in November.
-- Paul R. La Monica contributed reporting.