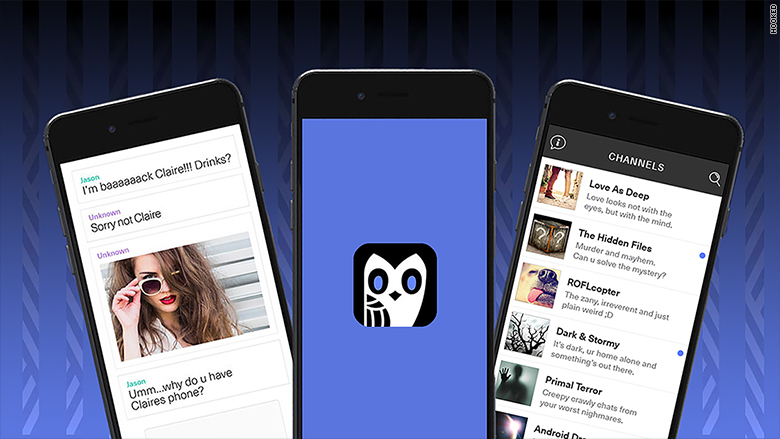 "Umm...why do u have Claires phone?"
"Well if u must know i sat down on this park bench to read"
"And sat right on someone's phone. Claire's I'm guessing"
"What r u reading?"
That's an excerpt from a book meant to be read on an iPhone or Apple Watch. It's available on an app that launched this week called Hooked.
Prerna Gupta describes her app as "books for the Snapchat generation."
Hooked will feature short fiction for young-adult readers. Gupta said that 80% of young-adult novels are read digitally. So the teen-set seemed like the most natural audience.
Related: The highs and lows in Apple's iOS 9
Each book will be roughly 1,000 words and is designed to be read in about five minutes. The stories will be told entirely through dialogue and read like texts. Messages show up on screen when readers click "Next."
"Epistolary literature is nothing new," she said. "Bram Stoker's 'Dracula' is one of my favorite books and the story is told entirely through letters."
Gupta, who envisions the app as being like "Twitter for fiction," turned to some of the top MFA programs to recruit alumni writers.
"We listed that we had paid creative writing opportunities and the response was overwhelming," Gupta said.
While she wouldn't disclose actual figures, Gupta said pay varied by story but was very "competitive."
Initially, the app will only feature content from screened contributors. However, eventually users will be able to submit content of their own.
The app is free to download and features one free story a day. Readers can unlock more stories with the subscription service. A week of unlimited stories costs $2.99. A month is $7.99 and a year is $39.99.
There are currently over 200 stories and Gupta said they add more every day.
Stories are broken into categories such as "Dark & Stormy," "Primal Terror," and "Love as Deep." There's even a section called "Telepathic" that is "hand-picked" by Hooked editors to "blow ur mind."
Related: Can Barnes & Noble survive?
Telepathic, the company Gupta founded with her husband, Parag Chordia, has raised $1.9 million and closed its first round of funding on Thursday.
That round raised $1.2 million from investors such as 500 Startups, Greylock, Foundation Capital, Flight.vc, which is run by Gil Penchina, and Rivet Ventures.
The new app is only Gupta's most recent project.
Gupta and Chordia, who met at Stanford in 2004, founded Khu.sh, a startup that built music apps. The duo sold Khu.sh to competitor Smule in 2011 for several million dollars and decided to write a science fiction fantasy trilogy.
While writing the novels, Gupta started to think about the "technology of reading." After writing more than 100,000 pages, she decided to put the trilogy on hold and create another app.
"We saw that there was lots of scope for innovation," Gupta said. "Books on phones haven't kept up with the lives and behavior of modern readers."