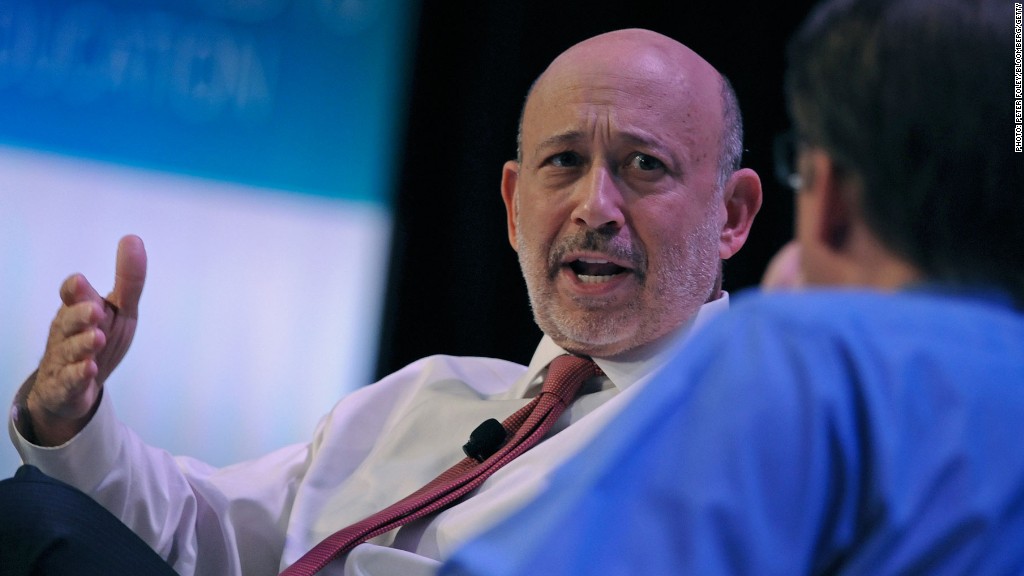 Goldman Sachs CEO Lloyd Blankfein said on Tuesday that he has a "highly curable" form of cancer.
Blankfein, one of the most powerful executives on Wall Street, said he and his doctors expect he will be cured.
The Goldman Sachs chief anticipates working "substantially as normal" over the next several months as he receives treatment, including chemotherapy. However, Blankfein expects to reduce some of his previously planned travel during this period.
"There are many people who are dealing with cancer every day. I draw on their experiences as I begin my own. I have a lot of energy and I'm anxious to begin the treatment," Blankfein said in a statement.
Blankfein might reach out to his fellow banker and friend JPMorgan (JPM) CEO Jamie Dimon, who was diagnosed with throat cancer last year. Dimon, one of the industry's other power players, has continued working while undergoing treatment.
"I wish my friend Lloyd a fast and full recovery. He is blessed with a lot of love and support from family and friends, including me," Dimon, said in a statement.
Related: Blankfein: Trump's finger on the button 'blows my mind'
After not feeling well late this summer, Blankfein said he underwent a series of tests that resulted in a biopsy last week. The biopsy revealed a "highly curable" form of lymphoma, a form of cancer.
Blankfein has led Goldman for 9 years. He became CEO in 2006 when Henry Paulson left the bank to become secretary of the Treasury Department.
Shares of Goldman Sachs (GS) fell nearly 3% on Tuesday following the Blankfein news.
Dick Bove, a Rafferty Capital analyst who covers the banking industry, said Goldman investors have reason to be concerned because Blankfein's health problems come as the company is trying to adjust to major shifts in the industry. He pointed to recent efforts by Goldman to branch out into new business areas, including a plan to launch a consumer lending unit.
"Obviously Lloyd Blankfein is the captain. If he's not able to handle these adjustments, it's going to be difficult," said Bove.
Goldman has a well respected and highly experienced No. 2 behind Blankfein in Gary Cohn, who serves as president and chief operating officer.
Bove called Cohn a "very smart guy" who has proven himself to be "extremely capable" in Goldman's trading operations and beyond.