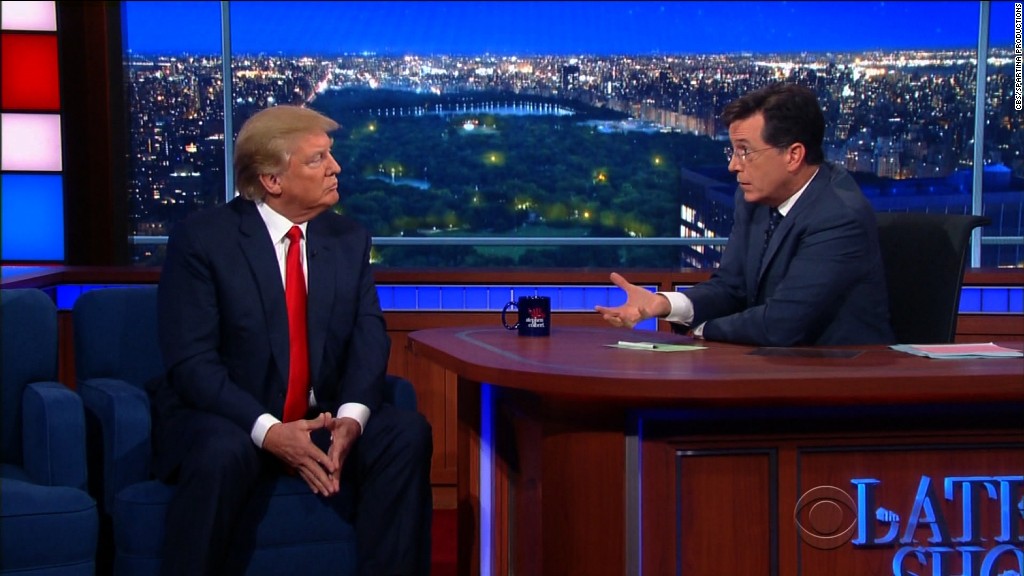 Donald Trump ducked an attempt Tuesday by Stephen Colbert to get him to say whether he believes President Obama was born in the United States.
Colbert called the question a "big fat meatball" that Trump would never have to respond to again if he answered during an afternoon taping of the "Late Show" episode.
"Barack Obama, born in the United States?" Colbert asked.
"I don't talk about it anymore," Trump deflected, saying he would rather talk about jobs and veterans' affairs.
After Trump didn't answer, Colbert said that the "meatball is now being dragged down the steps of the subway by a rat," a reference to a viral video that has made the rounds this week.
Trump has in the past been a vocal supporter of claims that Obama was not born in the U.S.
The brash presidential candidate was Colbert's headliner on Tuesday's "Late Show." The two spoke about immigration, the Iran deal, and Trump's run for the White House.
"I want to thank you for running for president," Colbert said. "I'm not going to say this stuff writes itself, but you certainly do deliver it on time every day."
Trump, the GOP front runner, has done many late night appearances, but this was his first with Colbert.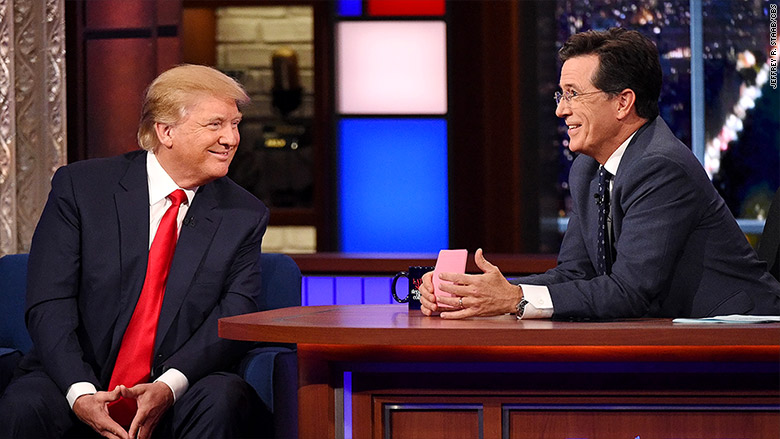 Related: Stephen Colbert's 'Late Show' lights up late night TV
Tuesday's appearance was a gamble for Trump since Colbert isn't known to pull punches with his guests, especially those in the political realm.
However, Colbert was cordial and Trump seemed comfortable playing to the audience. Some gave him a standing ovation when he came out.
Trump wasn't Colbert's only political guest on Tuesday. Secretary of Energy Dr. Ernest Moniz, the architect of the Iran nuclear deal, was Colbert's second guest.
Colbert asked Trump, a vocal critic of the Iran deal, to sign a copy of his book "The Art of the Deal" for Moniz. Trump jokingly went along. "Better luck next time," he wrote.
Trump bashing has been common on Colbert's "Late Show." One of the highlights of the show's debut earlier this month was a bit in which Colbert gorged on Oreos while also gorging on Trump news coverage.
The "Late Show" appearance came a little more than a week after Trump visited Colbert's late night rival Jimmy Fallon on "The Tonight Show."
Trump's "Tonight Show" guest spot was considered to be a "love fest" by some, but gave Fallon a big ratings win over Colbert that night.
Colbert spent years grilling politicians as a fake pundit on Comedy Central's "The Colbert Report."
In fact, Colbert played a game with Trump on Tuesday to see if he could figure out which quote was said by Trump or by Colbert's "Report" character.
Related: Donald Trump buys NBC's half of Miss Universe pageant