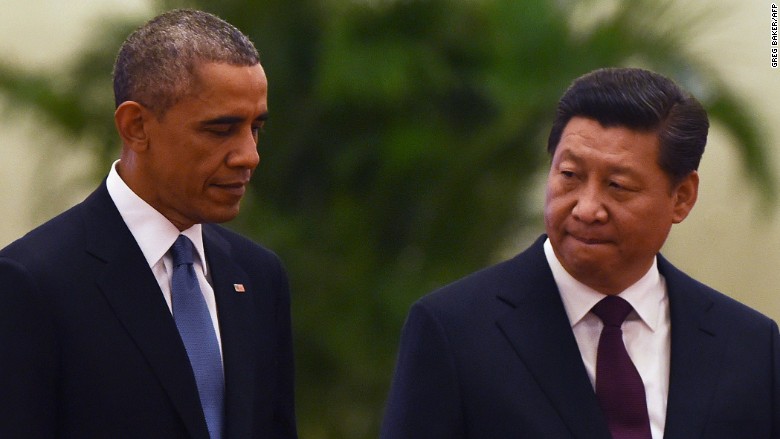 China's president is visiting the United States this week, and some politicians in Congress say it's time to fight back hard against China's cyber-spying.
The Obama administration was considering economic sanctions to punish China for spying on American government and companies' secrets, according to two people familiar with those talks at the White House.
The White House considered freezing bank accounts and blocking travel for Chinese companies and individuals that benefited from corporate espionage.
But according to insiders, the Obama administration is no longer pursuing a strategy of sanctions. It is hoping both nations can agree to basic rules of conflict in the computer world. Think something akin to nuclear arms control.
At a Business Roundtable meeting of CEOs last week, Obama said he hopes to send a clear message to the Chinese government.
"We are preparing a number of measures that will indicate to the Chinese that this is not just a matter of us being mildly upset but is something that will put significant strains on the bilateral relationship if not resolved," Obama warned.
"We are prepared to take some countervailing actions in order to get their attention," he said. "My hope is that it gets resolved short of that."
This is a pivotal moment to stop China's unfair game of corporate espionage, Democratic and Republican lawmakers told CNNMoney on Friday. The tipping point was reached after the recent theft of 21.5 million people's federal personnel documents. U.S. Intelligence Director James Clapper has named China as the "leading suspect" in that hack.
"You've got to draw a red line," said Rep. Will Hurd, a Republican from Texas and former CIA officer. "China's doing what's it's doing because there are zero consequences to their actions."
Until now, the most notable U.S. response was when the American government indicted five Chinese military officers in 2014 for spying on Alcoa (AA), SolarWorld (SRWRF), U.S. Steel (X), and others.
The problem is that China and the United States do not have an agreed-upon set of "cyber rules."
"How do we handle the Chinese? There really are no norms," said Rep. Jim Himes, a Democrat from Connecticut who sits on the U.S. House Intelligence Committee. "There really needs to be something analogous to the Geneva Convention... but for cyber."
Here's the reality, as explained to CNNMoney by former U.S. intelligence officials: Every government hacks nearly every other. China and Russia routinely break into U.S. computer to spy, and Americans break into their networks too.
Even friendly nations hack each other. Israel and South Korea -- both U.S. allies -- are the most aggressive at spying on the United States, according to two former federal law enforcement officials. It's mostly routine spycraft.
But China is also playing a different game. In the past, Clapper and FBI director James Comey have stated that China has a national policy: Steal American business ideas and blueprints, then feed them to state-owned corporations to improve Chinese competition against the Western world.
"The Chinese just don't accept the distinction the U.S. has made between use of cyber for 'traditional espionage' and for stealing of companies' proprietary information and intellectual property," said Bonnie Glaser, an expert on China-U.S. relations at the Center for Strategic International Studies.
The reason? All's fair in love and war -- and business.
"China's definition of security sees economic security -- including innovation -- to get an advantage as inextricably linked to overall national security," Glaser said. "We're talking past each other."
But that's a dangerous game that's only beneficial to China in the short term, Himes noted. Someday soon, China will become a leading tech and business innovator -- and it will have to fight off the same corporate espionage it's dishing out today.