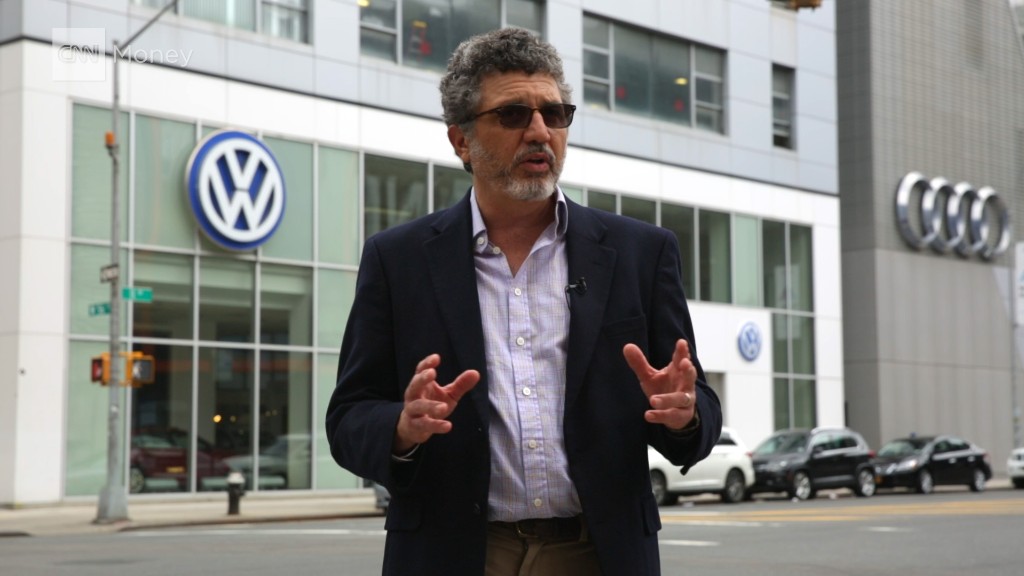 The Volkswagen emissions scandal is clearly bad news for VW. And perhaps for other European automakers that sell a lot of vehicles running on diesel. But will it be a huge problem for the entire industry?
Some have suggested that VW's cheating on diesel emissions tests in the United States could be a more widespread practice, the auto sector's equivalent of the Libor interest rate-fixing that big banks went through a few years ago.
And those fears have clearly spooked investors. They drove away from big U.S. auto stocks as fast as they could on Tuesday.
Shares of Ford (F) fell nearly 2% while GM (GM) dropped 3%. Both stocks were down again on Wednesday.
Related: Volkswagen CEO quits over 'grave crisis'
The other member of Detroit's Big Three, Fiat Chrysler (FCAU), got hit the hardest -- probably because it's half-European. It plunged more than 5% Tuesday.
Fiat Chrysler did bounce back Wednesday morning, but shares are still down more than 9% since news of VW's Clean Air Act violations first surfaced last Friday.
Several auto supplier stocks shifted into reverse as well, particularly ones with significant exposure to VW (VLKAY).
Gentex (GNTX) was down about 3% Tuesday. Delphi (DLPH) slipped nearly 4% and Tenneco (TEN) fell more than 6%. BorgWarrner (BWA) plunged almost 8%. These stocks were all flat Wednesday.
But some U.S. auto experts think it's an overreaction to dump the Big Three and their suppliers.
David Whiston, an analyst at Morningstar, notes that cars and trucks running on diesel are not that popular in the United States and that sales overall of diesel vehicles are relatively small for Ford, GM and Fiat Chrysler.
What's more, Whiston said that history has often shown it's a mistake to punish an entire sector for the sins of just one (or maybe a few) companies.
"If it comes out that everybody globally was cheating the system, then that's a godawful story. But I don't think that's the case," he said. "It's scary when scandals like this happen and people assume the worst. But in hindsight these are usually buying opportunities."
Whiston said he thinks the stocks of Ford and GM, which have both fallen more than 10% this year, are extremely cheap.
Related: Other European carmakers say they don't have the Volkswagen problem
Several auto companies have also been quick to defend themselves from accusations of cheating.
GM's Opel unit in Europe and Fiat Chrysler have both said they do not put so-called "defeat devices" in their diesel vehicles, referring to the type of software VW used that enabled it to fraudulently pass emissions tests.
It also looks like concerns that VW suppliers will take a financial hit due to the halting of diesel vehicle sales are overblown as well.
Parts supplier Tenneco said in a press release Monday that it generated just $7 million in revenue from its VW diesel engine business last year. And global sales were only $310 million. Tenneco reported total sales of $8.42 billion in 2014.
David Leiker, an auto analyst with Robert W. Baird, said several suppliers have been unfairly dumped. He conceded in a research report Tuesday that there could be some small losses in sales for suppliers with VW ties.
But he thinks that the VW scandal could benefit other German automakers in the long-run. So the suppliers may be able to win increased business from BMW (BAMXY) and Daimler's (DDAIF) Mercedes.
Leiker also noted that based on Google search trends this week, consumers don't appear to have a negative perception of Audi just yet -- even though VW owns Audi and some Audi models are affected. So the suppliers may wind up losing less VW business than feared if Audi sales hold up well.
Related: Volkswagen faces 34 federal lawsuits over emission scandal
His top supplier picks are Delphi, audio entertainment maker Harman (HAR) and collision avoidance system manufacturer Mobileye (MBLY). He said they're worth buying once the "dust settles" on the VW scandal.
Joseph Spak, an analyst with RBC Capital Markets, also thinks that investors are making too much of VW's "Dieselgate."
"Other automakers could grab share in the wake of [the] short-term hit to VW's reputation," he wrote in a a report Tuesday.
Spak thinks most of the bad news tied to the scandal is already priced into the auto supplier stocks. He thinks Lear (LEA), American Axle (AXL) and Autoliv (ALV), which have all fallen this week, should bounce back first.
Of course, all bets are off if it turns out that everyone in the industry was cheating on the emissions tests. But there's nothing to suggest that's the case right now.