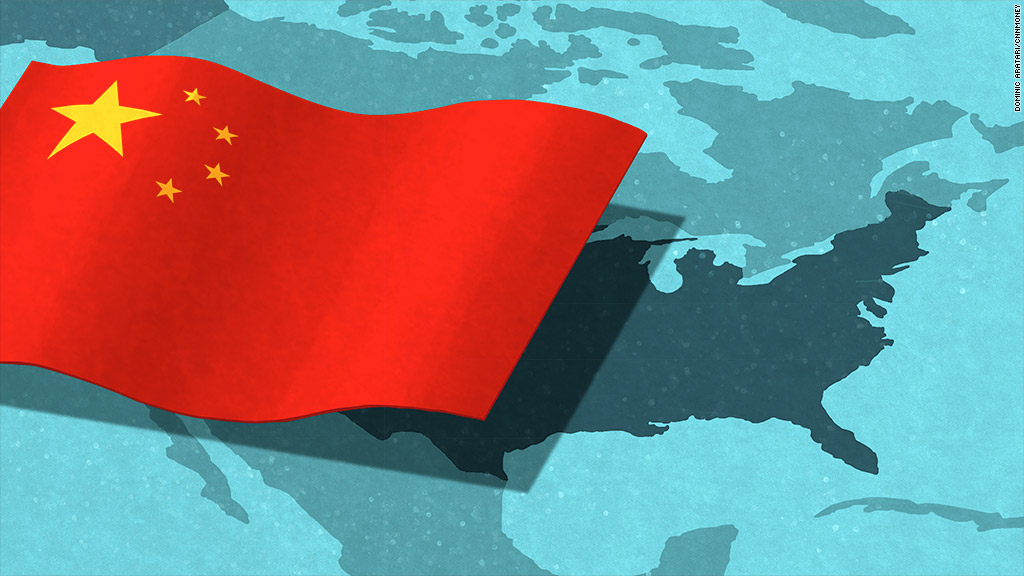 During his second day in Seattle, Chinese President Xi Jinping met Wednesday with some of the biggest names in tech and then toured a Boeing airplane factory.
The aerospace and defense giant has a history of close ties to China. Boeing helped develop the country's aviation industry and infrastructure.
Xi visited Boeing's factory in Everett, Washington, where it produces the 747-8, 767, 777 and 787 Dreamliners.
Together, Boeing and Xi announced that Chinese companies have inked a deal to buy 300 more Boeing (BA) planes this year. According to the company, China will need an estimated 6,330 new airplanes over the next 20 years, a haul worth $950 billion.
Boeing also announced that it's teaming with the Commercial Aircraft Corporation of China to build a facility in China to paint and finish the interiors of 737s.
Xi said that he wants to continue to grow China's relationship with Boeing, which dates back to 1972.
Boeing workers, however, are concerned that will mean fewer jobs in the United States. The Machinists Union in Seattle, which represents Boeing's Washington employees, organized demonstrations outside the facility on Wednesday. They say Boeing is outsourcing jobs.
But a company spokesperson said the plan will not result in job losses, and Boeing anticipates it may add workers at the U.S.-based plant as the Chinese plant ups its capacity to build more 737s.
Xi also crossed paths with Microsoft (MSFT) co-founder Bill Gates on Wednesday.
Earlier in the day, Xi attended a forum hosted by the Paulson Foundation, an economic think tank founded by former Treasury Secretary Henry Paulson. Xi met with 30 American and Chinese CEOs, including Berkshire Hathaway's (BRKB) Warren Buffett, Amazon's (AMZN) Jeff Bezos, Apple's (AAPL) Tim Cook and Microsoft's (MSFT) Satya Nadella.
Also scheduled to be there were executives from Chinese tech giants Baidu (BIDU), Tencent (TCEHY), Lenovo (LNVGF) and Alibaba (BABA).
They discussed a range of issues, including trade relations. Xi told attendees he wants to make China more accessible to American investors, according to the Paulson Institute.
U.S. CEOs spoke of their concerns about intellectual property protection and regulation transparency. They also touched on clean energy and how the countries can work together to develop new technologies.
Xi also attended the U.S.-China Internet Industry Forum, where he met Facebook CEO Mark Zuckerberg.
Zuckerberg, who speaks some Mandarin, wrote in a Facebook post that "this was the first time I've ever spoken with a world leader entirely in a foreign language. I consider that a meaningful personal milestone."
It's been a busy visit for Xi. On Tuesday, he signed a pact with some U.S. governors committing to work with the U.S. on clean energy development. The Chinese government also recently announced it plans to import such technology from America.
Xi also said Tuesday that he's ready to talk about Internet security with the U.S. It's a hot topic after a series of hacking incidents have strained relations between the countries, although Xi insists Beijing is not involved.
On Friday, Xi is scheduled for a visit to the White House and meet with President Obama.
-- Samuel Burke and Kevin Wang contributed to this story.
Correction: A headline on an earlier version of this article misspelled President Xi Jinping's name due to an editor's error.