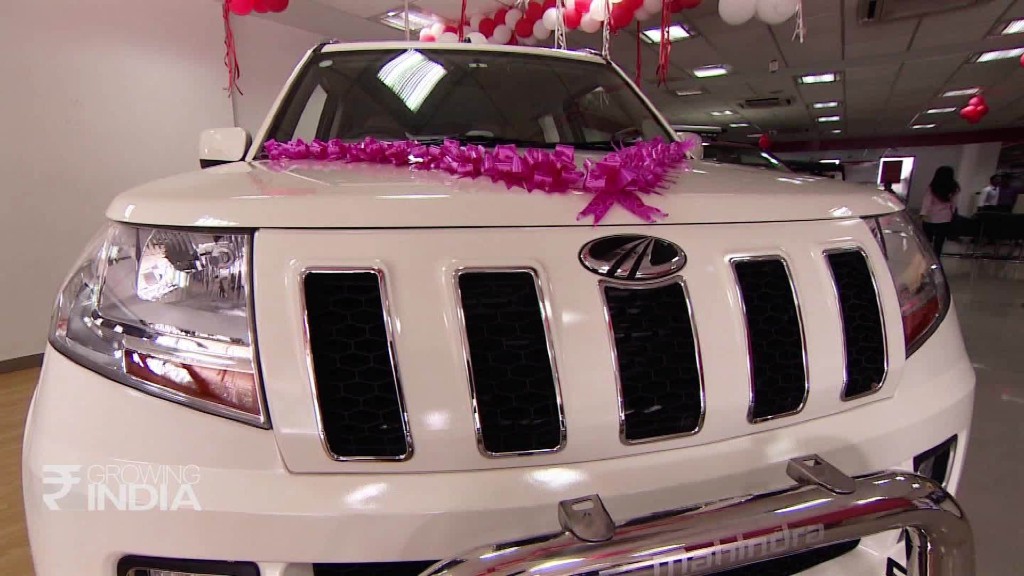 The much-anticipated TUV300 made a spectacular entrance at its launch in Pune, India -- crashing through a brick wall onto the stage.
The "T" stands for "Tough" in the compact SUV. Designers say was inspired by a battle tank, which is evident in its imposing frame and high hood. But the real battle for manufacturer Mahindra & Mahindra is to progress from being one of India's largest auto firms to competing at the top of the international market.
"We are seeing ourselves less and less as an Indian maker ... Our goal is to be seen as a global car maker," says managing director Anand Mahindra.
Mahindra points to a diverse international operation, with new vehicles being assembled in the United States and styling studios in Italy. The company has subsidiaries and distributors all over the world.
But the MD emphasizes that success at home is also contingent on beating the best, as India's liberal market and cheap labor costs have made it a hub for manufacturers all over the world.
"We are one of the most liberal automotive markets in the world," he says. "I would be surprised if you could name one significant automaker that wasn't here. We don't have priority or exclusive access."
For years, the company has catered to the India's rising middle class by creating vehicles that are durable, compact and fit for dizzying Indian roads. But lead designer Ramkripa Ananthan says that the TUV300 was designed to satisfy both domestic and international tastes.
"This will appeal to Indian sensitivity because of the proportion, the imposing aspect, the bold statement, the toughness of the vehicle exteriors," she says. "I do believe that it will appeal to the global market too... It has clean lines (and) even though the features are bold there are still certain understated aspects to them."
Long-term, the company is targeting rural communities, where car ownership remains low, but potential is high.
"You know, the rural market is big bonanza here ... That's where the majority of Indians live and their aspirations have gone up due to connectivity, TV, Twitter, social media," says Mahindra. "Everybody wants the same thing as their urban cousins."
But there is also an awareness of the impact that disruptive technology -- such as on-demand taxi apps -- could have on car sales.
"The biggest threat could be what I call the age of access, instead of excess," says Mahindra. "Where younger people are simply saying: 'I don't need to own my source of medium of transportation. I simply access through Uber or Ola.'
"But I don't think it means car companies are out of business. What it means first of all is there's an entirely new way of selling in the new segment. Companies like Uber have let their drivers buy cars in bulk, so there will be far more negotiations.
"We have to get more price efficient, we have to focus on things like fuel efficiency, safety, durability and quality. But that does not mean that there will be an extinction of the car owner, of the person who wants to own a car."