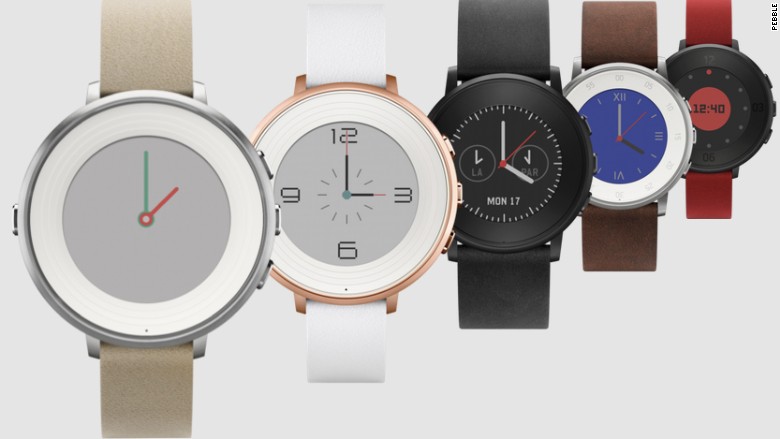 Pebble is shape shifting with its latest smartwatch, the Pebble Time Round.
The first real smartwatch success story, Pebble set records when it launched on Kickstarter in 2012. Its previous watchfaces have all been square, but the new watch has a metal, circular face and is an all-around smaller device. It's thinner than previous generations, and at 28 grams, it's about half the weight of the smallest Apple Watch.
It looks drastically different, but the $249 Pebble Time Round still works the same as the company's other watches. It's primarily built for notifications and has no touchscreen. However, to make it smaller, Pebble had to compromise on one of its best features: battery life. The Pebble Time Round lasts for two days on one charge.
Speaking at TechCrunch Disrupt on Wednesday, Pebble cofounder Eric Migicovsky said the design was meant to appeal to people interested a more "classic kind of watch look."
Since launching that first watch with its low-power e-paper screen, Pebble has gone from being one of the only smartwatches around to competing with the likes of Apple (AAPL) and Google (GOOGL).
"Apple came in earlier this year and pitched a very distinct version of the future. They're looking at building something that's more akin to a Rolex on your wrist," said Migicovsky. "We're not necessarily only looking at the high end of the market."
Related: Who exactly is the Apple Watch for?
Even at two days, the Pebble Time Round still has a longer battery life than its competitors. It can also charge quickly, getting 24 hours of juice in 15 minutes of charging. That, along with a shorter list of features, is what he thinks sets the Pebble apart from its newer competitors.
"It's a product that shouldn't negatively impact your life. It shouldn't be something that you worry about. It shouldn't be something that you constantly have to charge," he said.
Not everyone was excited to see a new Pebble watch.
Pebble just started shipping its Pebble Time Steel to Kickstarter backers weeks ago, after selling just under 100,000 units in a month. Many of those customers still haven't received their devices. The Time Round will start shipping in early November.
"We screwed up. We weren't able to ship on time," said Migicovsky.
The company is offering all Steel backers an opportunity to switch their order to a Time Round, even if they already received their watch.