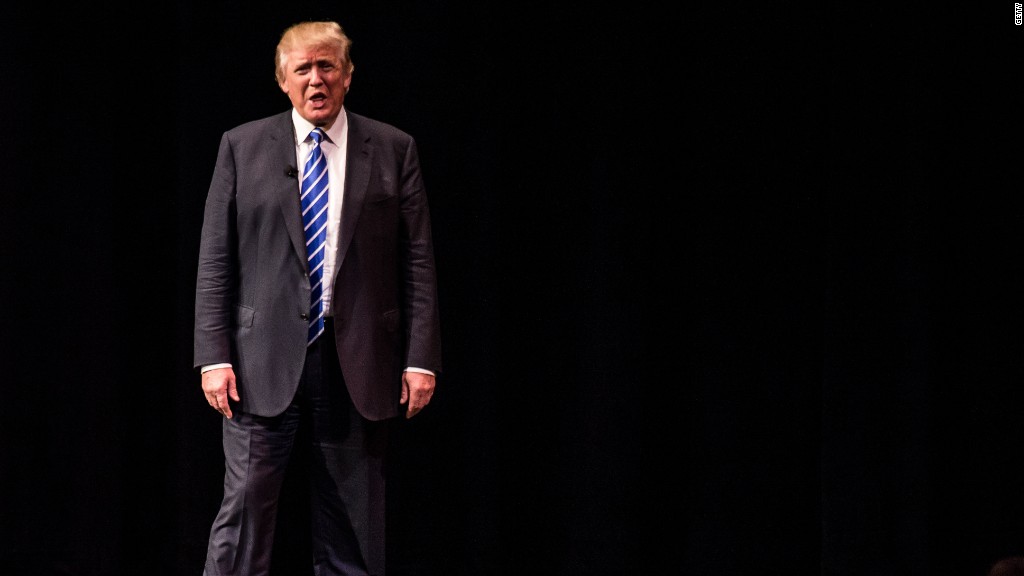 Donald Trump says he has "very thick skin" and doesn't "mind being criticized," but that the pundits who are wrong about him need to be corrected.
In back-to-back interviews Thursday morning, Trump continued to accuse Fox News of treating him unfairly and singled out one Fox commentator in particular, Rich Lowry, for being a "bad guy."
Lowry "looked like he was having a nervous breakdown on television" Wednesday night, Trump said on CNN's "New Day."
Trump was reacting to Lowry's off-color remark that Carly Fiorina had castrated Trump during the CNN debate last week. On Fox's "The Kelly File," Lowry referred to Trump's private parts and said Fiorina had the "precision of a surgeon."
Trump immediately took to Twitter to condemn Lowry and say "he should not be allowed on TV and the FCC should fine him!"
A long-running cold war between Trump and Fox has heated up this week, with Trump assailing what he hears on shows like "The Kelly File" and "The O'Reilly Factor" via his popular Twitter account.
Fox said Wednesday that it canceled Trump's Thursday appearance on the "Factor," which led Trump to claim that he'd decided to boycott the channel altogether.
"Fox News has not treated me fairly," Trump reiterated on Thursday morning in an interview with CNN's Alisyn Camerota.
He called into both CNN and MSNBC's morning shows, but not Fox's.
On MSNBC, host Joe Scarborough said to him, "Right now you're at odds with Fox News. We know how powerful they are in the Republican Party. And you're at war with Rich Lowry, who is the editor of National Review, which is really sort of the gold standard of conservative magazines."
Trump interjected: "I don't think anybody reads it, Joe. I think it has no power whatsoever, I'll be honest. I think it has no power whatsoever. And he's not a respected guy."
Scarborough said "I read it" and Trump said "You're the only one."
Lowry is, indeed, well-read and well-known in conservative circles. He is also a paid contributor to Fox, appearing regularly on shows like Kelly's.
But Trump said on CNN's "New Day" that he had "never even heard of" Lowry before.
Referring to the castration comment, Trump said, "he used words that are so unbelievable -- maybe he'll be fined or censured or thrown off -- he's a total fool."
Lowry won't be fined. The Federal Communications Commission occasionally fines broadcast networks for indecency, but has no power to sanction cable channels like Fox News or individual speakers.
The exchanges are the latest example of the immediate, and sometimes distracting, feedback loop between Trump and the people who talk about him on cable news.
"I have this thing called Twitter and Facebook, which is amazing actually," he said on MSNBC. "It's like owning The New York Times without the losses."
With Twitter, "with one tweet, 140 characters, you can knock somebody out," he commented. "Pretty cool."
Trump has repeatedly used the social networking service to sound off about perceived slights.
When he condemned Lowry on Wednesday night, Lowry gleefully replied with his own tweets: "Man, you can dish it out but you REALLY, REALLY can't take it."
Speaking with Camerota on Thursday morning, Trump said he can take it.
"Do you not want to hear other voices who criticize you?" she asked.
"I do. I do. I don't mind being criticized. And I don't mind it at all... If I do something wrong, Alisyn, I have very thick skin. I don't mind being criticized. I'll never ever complain, 'cuz I know when I do something wrong, I'm a smart person."
He continued: "I do things wrong, and when I do, I don't mind, they can come at me 15 different ways. But when I'm right or when I don't deserve something, I think it's very, very unfair to speak incorrectly."
Camerota asked, "When you say you have done a lot of things wrong, what's the last thing you've done wrong in this campaign?"
"Um," Trump said, and paused. "Well, I don't know. I'd rather not get into that. I'm sure I've made mistakes."