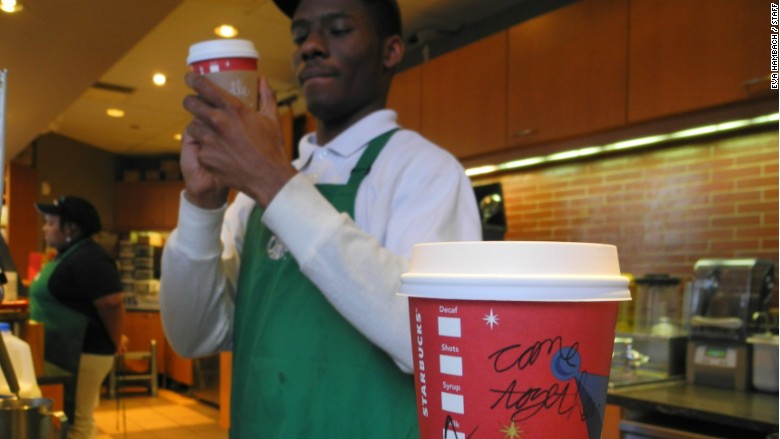 An internal memo from a Starbucks executive this week urged store managers to "go the extra mile" to improve workers' schedules.
The letter was distributed on Tuesday and refers to a New York Times story that was set to be published the following day titled, "Starbucks falls short after pledging better labor practices."
The Times story referred to a survey by the nonprofit advocacy group Center for Popular Democracy.
Based on interviews with 200 baristas in 37 states, the survey says Starbucks "is not living up to its commitment to provide predictable, sustainable schedules to its workforce."
In 2014, Starbucks said it was changing its policies telling managers to post schedules at least a week in advance and not make store employees work an opening and closing shift back-to-back.
In this week's memo, Cliff Burrows, Starbucks (SBUX) group president of the U.S. and Americas, said the findings of the new survey "suggest" that neither commitment was being met -- "contrary to the expectations we have in place."
In his letter, Burrows urges managers to improve scheduling for coffee baristas, who the company calls partners.
"To our store managers, I want to stress that as we continue to evolve and improve the usability of our system, we have to go the extra mile to ensure partners have a consistent schedule -- free of back-to-back close and open shifts that are less than 8 hours apart -- that is posted 2 weeks in advance," he wrote.