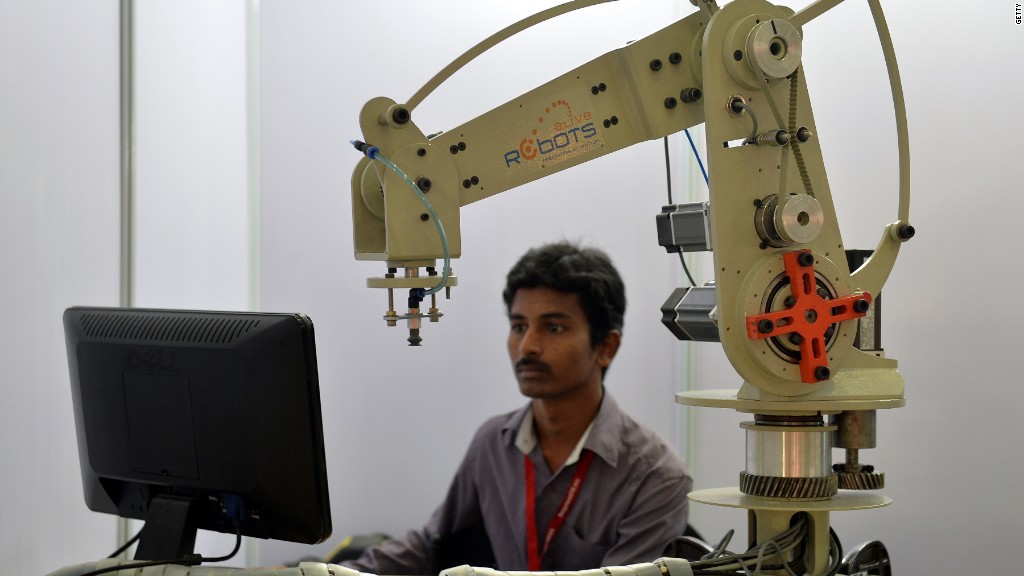 If you're buying a new TV, shopping online has its benefits. You can spend hours cross-referencing models and deals without pesky store attendants rushing your careful ruminations.
But what if you're buying ... a goat?
That is the question a number of Indians seem to be asking themselves this week.
Muslims around the world will celebrate Eid-al-Adha on Friday by sacrificing livestock and sharing the meat with family and friends. The tradition has an ancient backstory for Muslims, commemorating Ibrahim's willingness to sacrifice his own son Ismail on a request from God.
The celebration now has a modern, tech-savvy offshoot in India: you can skip the stench and mania of the cattle market and buy a live goat on the Internet, all from the comfort of your home.
OLX, an online marketplace, has hundreds of goats for sale across India, ranging from a few dollars per animal to as much as $10,000.
"Healthy," "attractive" and even "cute" -- there are page after page of descriptions and galleries.
Related: 2.3 million Indians apply for just 368 jobs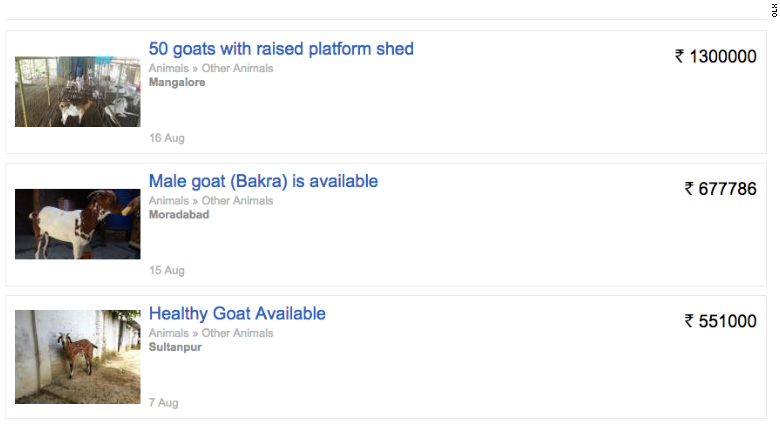 But there are a few hurdles.
Vijay Kumar, a student in the town of Faizabad in central India, was looking to cash in on Eid by selling his goat. Kumar doesn't have a PC, but recently discovered the internet on his smartphone.
"My friend told me about OLX so I opened it up," he said. "I posted a picture of my goat and the price."
A buyer called Kumar all the way from Mumbai, about 950 miles to the west. The buyer wanted him to deliver the goat. No way, thought Kumar.
That was the only offer Kumar received.
CNN called dozens of online goat-sellers on platforms including OLX and Quickr and couldn't find any with a successful sale.
"We can't judge an animal just by looking at a picture on a website," said Tehseen Ahmed, a Muslim who was in the market for goats this week. "The health of the goat is important, and while purchasing online looks interesting, it can't work for me," he said.
India has had an explosion of growth in its online retail and e-commerce markets. According to a recent report by Morgan Stanley, the Indian internet market will grow from $11 billion in 2013 to $137 billion by 2020.
But even for India's young and enterprising new users, the casual-buyer goat market may be one frontier too far -- at least for this year.
Hope springs eternal. "I will wait another year to sell my goats," says Sameer Thakur, who was unsuccessful on OLX this week. "I believe my luck will turn next year."