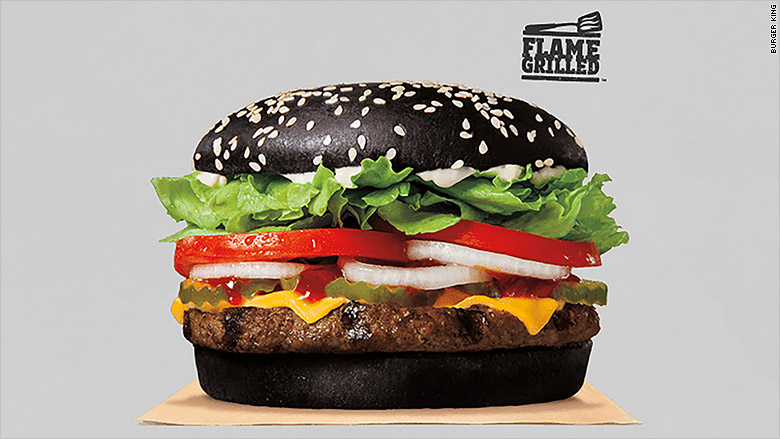 You don't have to go to Japan to try Burger King's black-bunned Whopper.
Burger King is bringing it to the U.S. just in time for Halloween. "Something wicked is coming," announced the burger chain on Twitter, with a brief promo video featuring thunder and lightning and a lunar eclipse, with a burger standing in for the moon.
But it's not just the color, insists Burger King. It's also the flavor, with A.1. sauce baked into the bun. According to Burger King, it's the sauce that turns the buns black.
"While the pitch-black bun gives the Halloween Whopper sandwich a look that may make some think 'hmmmmm?' the burger's classic A.1. flavors will have tasters saying 'mmmmm,'" said Burger King.
Burger King has already been selling colored Whoppers in Japan. As part of a summertime promotion, the chain sold "samurai burgers" with red or black buns.
In the U.S., the black Whopper has 710 calories, 43 grams of fat and 1.5 grams of trans fat. That makes the non-black Whopper look relatively slim, with its 650 calories, 37 grams of fat and 1.5 grams of trans fat.
Burger King is promoting the burger through hash tags "HalloweenWhopper and "SuperEclipse." But not everybody is psyched. "I don't know if this is just me but this looks so disgusting," says one commenter on Twitter.
Burger King customers can wash the burger down with a drink that's tailored specifically for the fall: the 890-calorie 20-oz. Pumpkin Spice Oreo Shake, with 120 grams of sugar and 24 grams of fat.
The black-bunned Whopper is only the latest of a series of experiments that Burger King is conducting. It recently launched a "burger merger" with several other burger chains, including Wendy's, to create hybrids of their rival burgers.