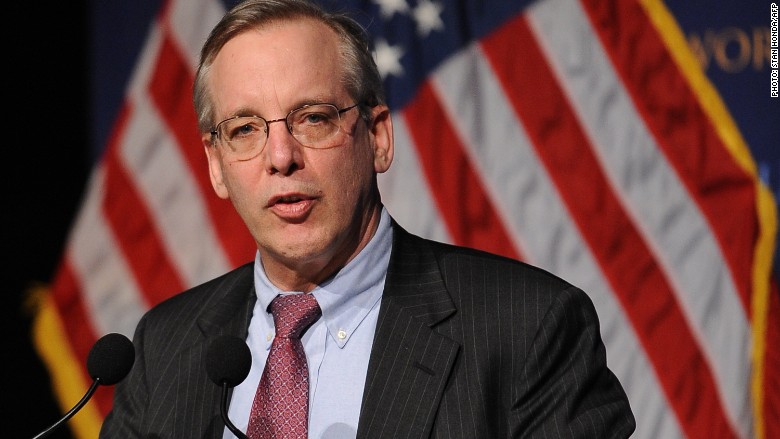 A rate hike is still (probably) coming this year.
The Federal Reserve decided not to lift its key interest rate about two weeks ago, but New York Fed President William Dudley says a rate hike will likely come before 2016.
"My expectation is that we will raise interest raise rates later this year," Dudley said at an event sponsored by The Wall Street Journal, where he was interviewed by the newspaper's reporter Jon Hilsenrath. If the U.S. economy stays on course "there is a pretty strong case for liftoff."
What does the Fed need to see so it can raise its interest rate?
"I don't think it's possible to specify, 'if X happens, Y will follow,'" says Dudley, who voted against a September rate hike. Translation: there's no clear answer.
Related: Meet Janet Yellen: the most powerful woman in the world
Dudley and Fed Chair Janet Yellen have reiterated for months that rate hike would probably come this year. It would be the first time in nine years that rates would rise and would signal that more rate hikes are coming soon, which would impact millions of Americans.
But there's concerns that the global economic outlook -- which deterred the Fed from a September rate hike -- won't change before the Fed's October meeting. It may not even change much before its final meeting of the year in December.
Hilsenrath noted that there isn't much economic data between now and the Fed's meeting in late October that could significantly alter the Fed's outlook.
Related: Falling gold and copper prices slam these countries
"Lets see what that information is," Dudley replied. Dudley said the Fed's message has been consistent this year but some investors disagree. They've blamed the Fed for sending conflicting messages, sparking uncertainty and market volatility. Last week the Dow and S&P 500 suffered losses related to Fed uncertainty.
This year, the global slowdown and the strength of the dollar has kept a lid on U.S. inflation, which the Fed is watching closely to justify a rate hike. The Fed wants to see inflation move towards its 2% target. But in August, inflation only hit 0.2% annually. It's a long way away from the Fed's target.
The strong U.S. dollar, low commodity prices, and slowing growth in developing countries are dragging down U.S. trade. That's kept inflation anchored close to zero.
The September jobs report -- a key metric for the Fed -- comes out Friday. That could provide more clarity on the strength of the U.S. labor market and the probability of an October rate hike.