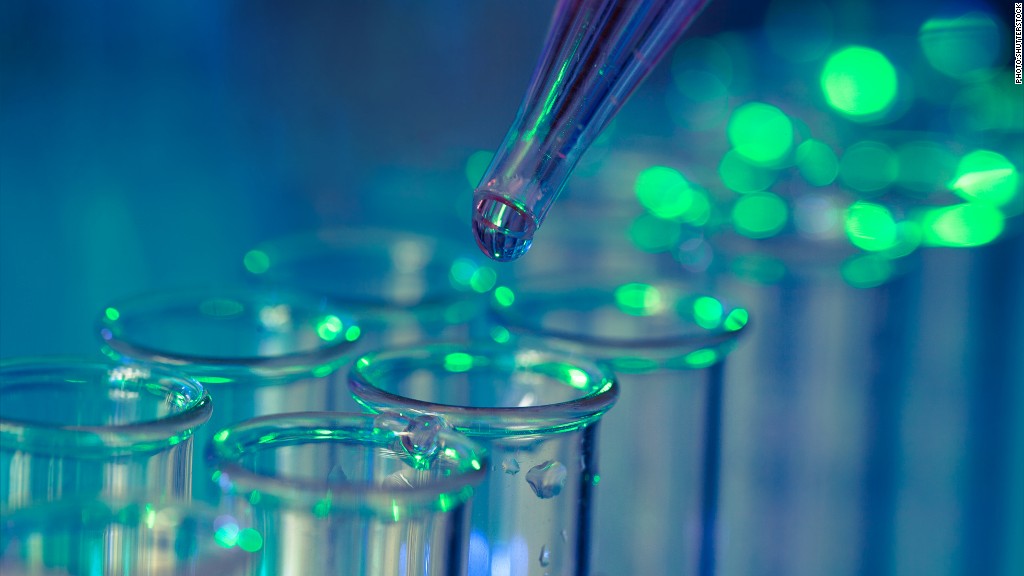 The 2016 presidential election delivered a death knell to the biggest bull market in biotech stocks ever.
Fueled by incredible innovation and rapid revenue growth, the S&P 500 biotechnology index skyrocketed more than 400% between July 2010 and July 2015. Biotech superstars like Gilead Sciences (GILD) and Regeneron (REGN) posted even more monstrous rallies.
But last week, biotechs imploded after Hillary Clinton tweeted her outrage about unbelievable price hikes by a drug maker run by Martin Shkrelli, the former hedge fund manager who's since been dubbed the most hated man in America.
Biotech stocks got crushed again on Monday. The S&P biotech index is now down 23% below its July peak. It signals that the stocks are in bear territory -- which means they have fallen at least 20% from a recent high.
It's the end of the best and second-longest bull market in the group's history since 1992, according to Bespoke Investment Group.
Related: Hillary Clinton tweet crushes biotech stocks
Days of dramatic price hikes may be over
The real trigger for the biotech bust was the threat that Washington would act to curb dramatic price hikes that help pad drug makers' profits.
"Investors previously saw clear skies and smooth sailing as far as price increases go. No one factored in this risk," said John Schroer, who manages several healthcare funds at Allianz Global Investors.
"There's been a wholesale liquidation of biotechs," said Schroer.
Related: The guy behind the $750 AIDS drug
The biotech meltdown has crushed Biogen (BIIB) and Acorda Therapeutics (ACOR). Both have plummeted 40% apiece. Even former darlings Gilead and Regeneron have been downgraded to bear-market status.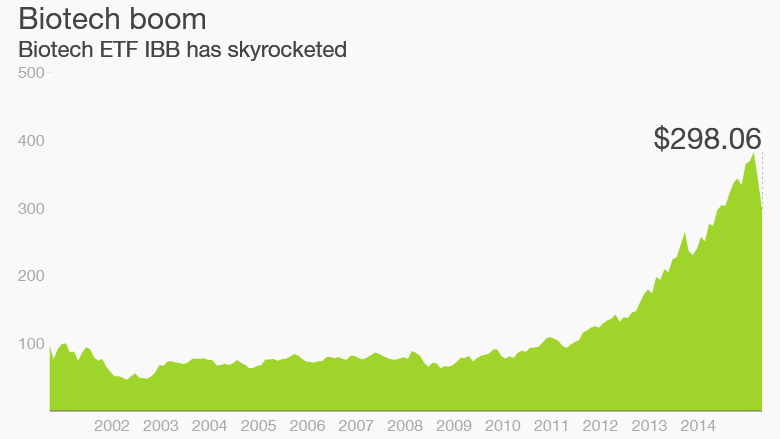 Biotechs crushed by political pressure
Schroer, a political news junkie, took notice of the traction Bernie Sanders was getting in the polls by talking about the affordability of prescription drugs.
On September 10 Schroer cut back positions on pharma stocks like Celgene (CELG), AbbVie (ABBV), Vertex Pharmaceuticals (VRTX), Eli Lilly (LLY), and Bristol-Myers Squibb (BMY) because of pricing concerns.
The decision to dial back on biotech is why the AllianzGI Health Sciences Fund (DGHCX) that Schroer manages is the No.1 performer among its peer group this year, according to Bloomberg.
Related: Is Hillary Clinton tweet a sell signal for biotech?
Biotech bust spooks investors
In many ways, the biotech bust makes sense. The group's sky-high valuations already made it vulnerable to a swing in broad market sentiment. Investors understandably decided to harvest some profits in an area that was a clear winner.
The biotech bear market is in turn spooking the broader markets now. It led Monday's stock market plunge, which wiped out 313 points from the Dow.
"The velocity of the selloff is a cause for concern. That's something we're watching very carefully. Where does it go next?" said Joe Quinlan, chief investment strategist at U.S. Trust.
"When you start selling the winners, then you know the markets are signaling there could be problems ahead," said Quinlan.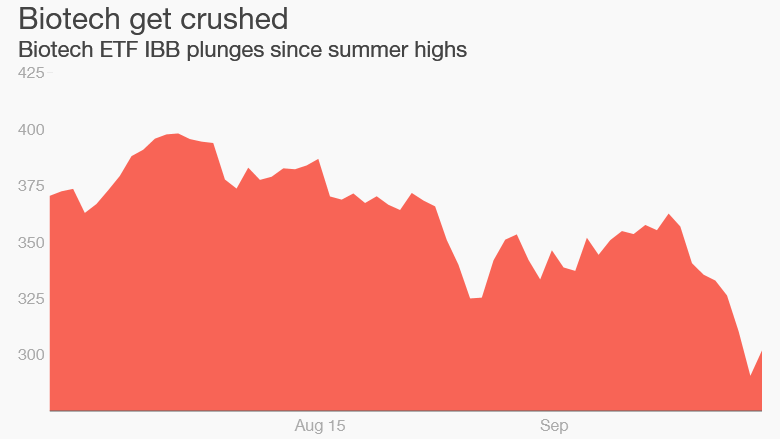 Related: Cash is king. it's better than stocks or bonds in 2015
When will biotechs be revived?
Some investors are watching for a good time to get in and buy a beaten-down sector they've been waiting to gain exposure to.
But history says to watch out -- the average biotech bear market has lasted 92 days and wiped out 29% of value, according to Bespoke. That implies the current slide has another three weeks to go and could wipe out an additional 10% of prices.
But there's no guarantee it will happen again, especially given just how strong the previous bull market was. The amount of time biotech stocks took to recover varied wildly, ranging between 23 days and as many as 2,120 days, according to Bespoke.
Related: The stock market bull may not be dead yet
Political risk may be over-hyped
But Allianz's Schroer thinks biotech stocks may be at or near a bottom. He's been selectively adding to Allianz's positions in this space.
That's despite the fact that Schroer believes there is a good chance drug makers self-regulate themselves and keep dramatic price hikes to a minimum so as not to upset Washington.
He believes there's little actual risk of price controls imposed by the Democrats after the 2016 election because the chances that they will control the White House and also both houses of Congress is low.
And even when there's complete control, legislation is tough. Despite the Democrats controlling both houses of Congress in 2010, President Obama was unable to deliver legislation mandating the government negotiate prices with drug makers.
"Something would have to change dramatically in the current political environment," said Schroer.