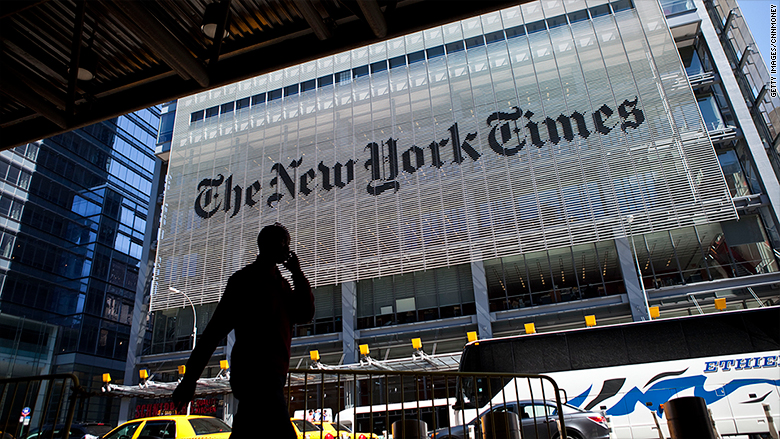 New York Times reporter Alan Feuer was scolded Tuesday by the newspaper for the "inappropriate" language he used in tweeting a crude sexual suggestion to a female critic.
On Monday, in an otherwise straightforward article about New York City tabloids, Feuer wrote that it was "hard to know what the [Post] cares about aside from sex, gossip and the shifting whims of its owner, Rupert Murdoch" -- the sort of editorial jab not usually found in the Times' news pages.
When a Post writer took issue with a small aspect of Feuer's article on Tuesday, Feuer responded via Twitter with the very un-Timesian taunt: "B--- me."
It is unclear why Feuer, a staff writer at the New York Times since 1999, appears to have such disdain for the New York tabloid. But a Times spokesperson told CNN that Feuer's comments to the Post reporter were inappropriate.
"The comments on Twitter aren't appropriate and Alan has been reminded of that," Eileen Murphy, the Times' head of communications, said. She declined to comment on the line about "sex, gossip and the shifting whims" of Murdoch.
Feuer's Twitter taunt came after Lisa Davidson, an associate professor of linguistics at New York University, highlighted his use of the word "empyrean" when referring to the Times' editorial style. Empyrean, Davidson pointed out, is defined as "heavenly" or "sublime."
Jane Ridley, a senior feature writer for the Post, chimed in as well: "Speaking as a tabloid vet, I am proud to have never used such a wanky word as 'empyrean' in my copy."
"Have you ever used a wanky word like blow me?" Feuer replied.
Feuer made sure there was no confusion over his intentions.
"Crikey... couldn't you, as an NYT writer, be more creative with your word use than 'blow me'?" Ridley asked.
"Nope that pretty much says what I was going for," he wrote.