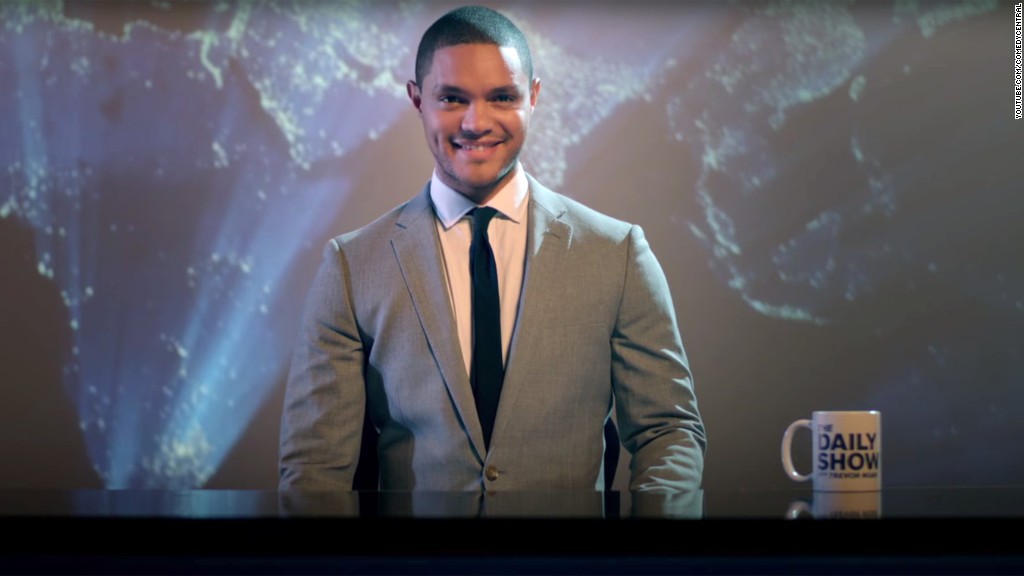 A new satirical news era dawned on Monday night as Trevor Noah took over "The Daily Show." But before getting started, Noah made sure to acknowledge the man he's replacing: Jon Stewart.
"Thank you Jon... I'm not quite sure what you saw in me, but I'll work hard every day to find it," the 31-year-old South African comedian said during his opening remarks. "And I'll make you not look like the crazy old dude who left his inheritance to some random kid in Africa."
Noah then spoke directly to "Daily Show" viewers at home, thanking those both "new and old" for joining him as he continues the "war on bull" that Stewart waged.
Noah straddled old and new in his debut, seeking to win over Stewart's longtime "Daily Show" fans while also trying to appeal to new viewers.
He started to row the boat without rocking the boat, with the possible exception of jokes about Whitney Houston and AIDS that some commentators thought were tasteless.
The first segment critiqued crazed media coverage of Pope Francis' recent trip to the United States before transitioning to the other big news of the past week: House Speaker John Boehner's resignation.
"No! Why leave now? I just got here!" Noah said to Boehner. "I learned how to pronounce your name." (Watch the segment here.)
Comedian Kevin Hart was Noah's guest -- and marked the occasion by bringing ties as a gift.
Noah then ended the show the same way that Stewart had for 16 years with a "moment of zen."
On social networking sites, there were some "mehs" and sighs about Stewart's absence, but there were also cheers for Noah's premiere and many admiring comments about his handsome, youthful appearance.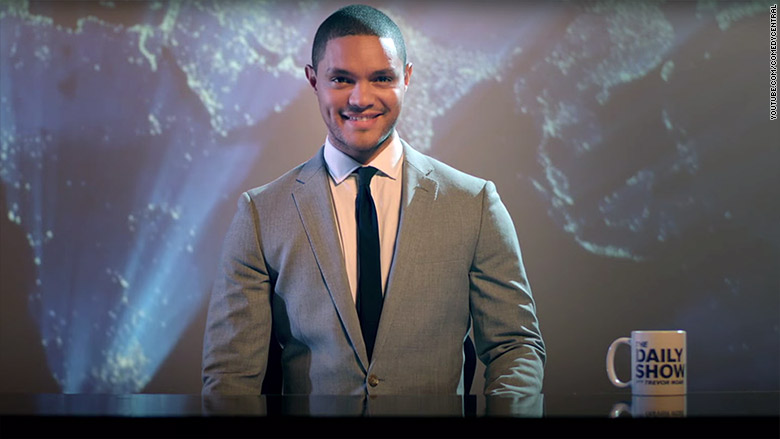 Bill Carter, the CNN analyst who has authored two books about late-night TV, said he thought Noah had a smooth debut. The show's writers and producers are "easing him in," Carter tweeted.
He added, "Noah looks at ease, which is large part of making it work."
New York Times TV critic James Poniewozik commented that "the mission of that show was, 'Trevor Noah can host the 'Daily Show' you're used to and not burn it to the ground,' and it worked."
Variety's Brian Lowry put it this way: "For now, anyway, it doesn't look like anything here is cause to make that globe suddenly spin off its axis."
Related: Inside Trevor Noah's final test run for the new 'Daily Show'
Of course, the team had months to think about how to pull off Monday's premiere.
Over time Noah will evolve the show and make it more of his own -- breaking with some of Stewart's norms.
Related: New 'Daily Show' host Trevor Noah says he's not trying to be Jon Stewart
Noah was briefly a correspondent on Stewart's iteration of the show, but he is largely unknown to American audiences. He is replacing a beloved figure, so the pressure is enormous.
Past "Daily Show" correspondents like Larry Wilmore -- now the host of "The Nightly Show" at 11:30 p.m. -- and new "Late Show" host Stephen Colbert took to Twitter late Monday to wish the new host luck.
"20 min. to the new The Daily Show- Just set up my series recording!" Colbert tweeted.
Comedy Central also received promotional help from its parent company, Viacom, which simulcast the premiere episode on many of the company's other channels, including MTV and BET.
Noah has said that he's approaching his debut week as a "miniseries." On Tuesday's show he'll interview Whitney Wolfe, the CEO of a dating app startup; on Wednesday he has Republican presidential candidate Chris Christie; and on Thursday musician Ryan Adams will perform.
Speaking about Adams, Noah told CNNMoney, "I think he's, in essence, done what we've done with 'The Daily Show, and that is, he's taking something that people love.... something that's very successful, and he's gone, 'This is my interpretation of it.' People go, 'Is it changed? Is it different?' Yes. 'But is it a thing we recognize?' Yes. 'Can I be a fan of both?' Yes."
Noah's debut Monday night also officially closes a chapter on a summer that saw two of late night television's legends, Stewart and David Letterman, sign off.
There has been a sweeping period of change. Now, with Colbert taking over the "Late Show," and Noah taking over "The Daily Show," the new faces are seated at their respective desks and seeking your laughs.