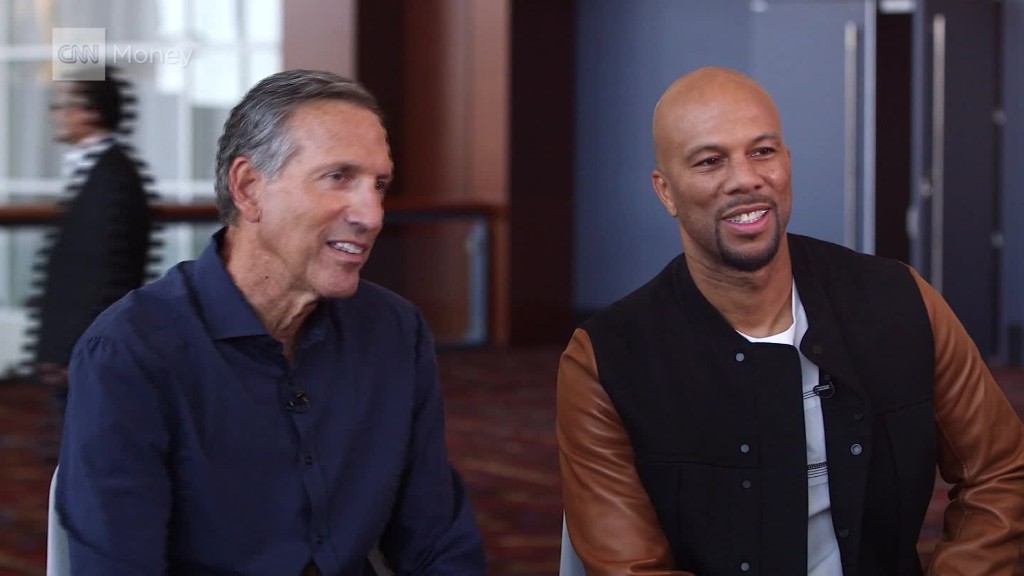 Starbucks isn't giving out free coffee for National Coffee Day. It's kicking off a year-long effort to give away coffee trees.
The coffee Goliath's rivals are taking the more traditional route, seizing on the made-up holiday (carpe diem!) to promote their joe by giving it to customers.
Dunkin' Donuts (DNKN), the granddaddy of coffee, is handing out free coffee to members of its DD Perks Program. A visit to a Dunkin' Donuts in Manhattan showed a sign in the window advertising its National Coffee Day deal and a crowd spilling out onto the sidewalk.
Wawa is also giving out free coffee, of any size, to any customer who wants it. Krispy Kreme (KKD) is giving out free small coffees and glazed doughnuts, along with $1 discounts on other drinks.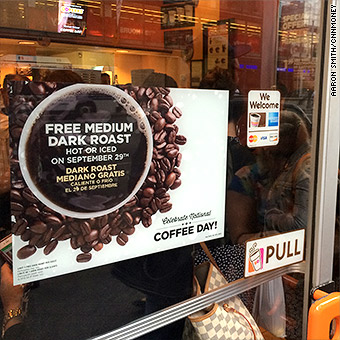 A visit to a Starbucks (SBUX) in Manhattan showed business as usual, with a long line of customers but no sign of the High Holy Day for caffeine.
Starbucks will donate 70 cents -- the price of one coffee tree -- to coffee farmers for every bag of joe purchased by customers in U.S. stores. Starbucks purchases its beans from farmers in more than 30 countries.
The effort aims to alleviate a twofold problem for coffee farmers: aging trees and a fungus called "coffee rust" that slows or kills production of coffee cherries. The company said this has gutted coffee production by 50% in some areas and is particularly bad in Guatemala, El Salvador and also Mexico.
Starbucks is jump-starting the program by giving away one million trees.
This is a departure from last year, when Starbucks took a more traditional route by offering free samples of its Anniversary Blend.