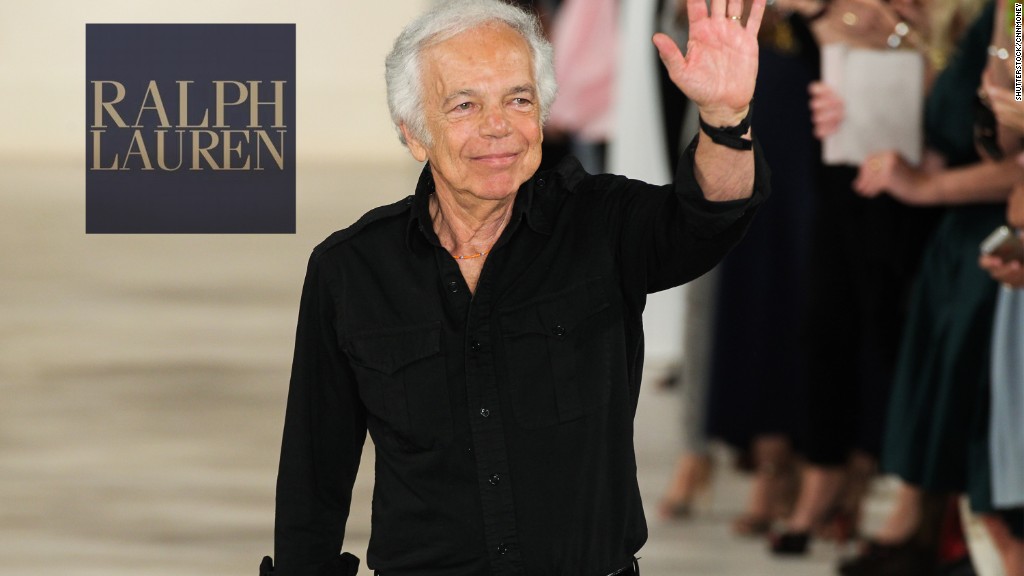 Ralph Lauren stepped down as CEO of his fashion empire on Tuesday and was replaced by the boss at Old Navy.
Stefan Larsson, the former global president of Old Navy, will replace Lauren as CEO effective in November.
Lauren will become executive chairman and chief creative officer of Ralph Lauren Corp. (RL) Larsson, who held multiple jobs at H&M for 15 years, will report to Lauren.
"My job is to think always about the future of our company and how to move it forward," said Lauren, who turns 76 next month. "Stefan Larsson is exceptionally talented, and he will bring our company a fresh and exciting global perspective."
Larsson helped to grow H&M's global operations from 12 to 44 countries and its sales from $3 billion to $17 billion during his tenure.
This comes after the Ralph Lauren company -- which Lauren founded in 1967 -- reported a 5.3% drop in revenue from June 2014 to June 2015.
Stefan Larsson's move to Ralph Lauren sends Gap stock down
The company attributed this to the impact of the stronger dollar, which hurts U.S. companies that do a lot of business overseas. A third of Ralph Lauren's sales happen outside the United States.
Its growth has certainly slowed from its heyday in the 1990s and 2000s. Ralph Lauren stock is down 44% year to date. After the news broke, shares rose nearly 5% in after hours trading.
Lauren -- who changed his birth name from Lifshitz at the age of 16 -- launched his first retail store, Polo Ralph Lauren, in 1971. Today Forbes lists his net worth at $6 billion.
The Ralph Lauren company has more than 300 Polo Ralph stores across the world, including brands like Ralph Lauren Childrenswear, Lauren by Ralph Lauren, American Living, Chaps and Club Monaco. It has a contract to outfit U.S. Olympic athletes through 2020.