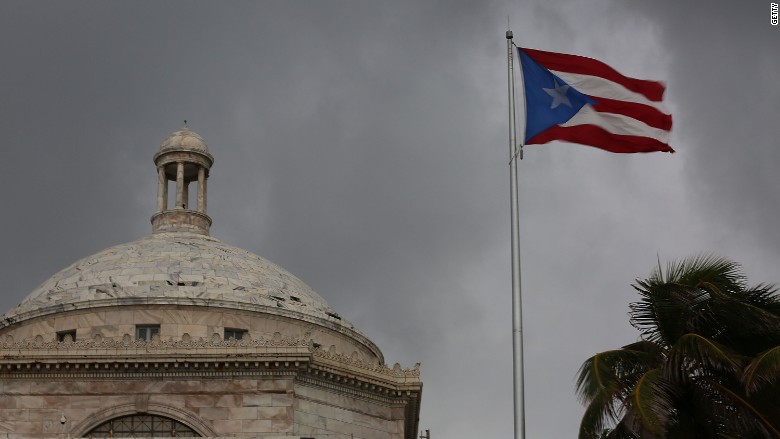 Puerto Ricans feel like second class citizens in the United States.
That's the message Puerto Rico's lone Congressman, Rep. Pedro Pierluisi, had for his colleagues Tuesday in a harsh rebuke of Congress' treatment of Puerto Rico.
"If you treat us like second class citizens, don't expect us to have a first class economy," Pierluisi said to the Senate Finance Committee in a hearing. "Congress treats Puerto Rico in a discriminatory fashion under numerous programs."
Pierluisi has a point. The island is in the midst of a massive a debt crisis after having defaulted in August, and Congress isn't helping out much.
Puerto Rico owes $72 billion to its creditors and the island's governor, Alejandro Garcia Padilla, says the debts can't be paid. High-skilled Puerto Ricans are leaving the island for mainland U.S. for better-paying jobs.
The commonwealth's government offered an extensive plan to pay back its debt in early September, but even that falls short by $14 billion of what's needed. The governor is demanding that Puerto Rico have chapter 9 bankruptcy rights and that its creditors take a steep discount.
"We cannot allow them to force us to choose between paying for our police, our teachers, our nurses, and paying our debt," Padilla said in a televised announcement on June 29.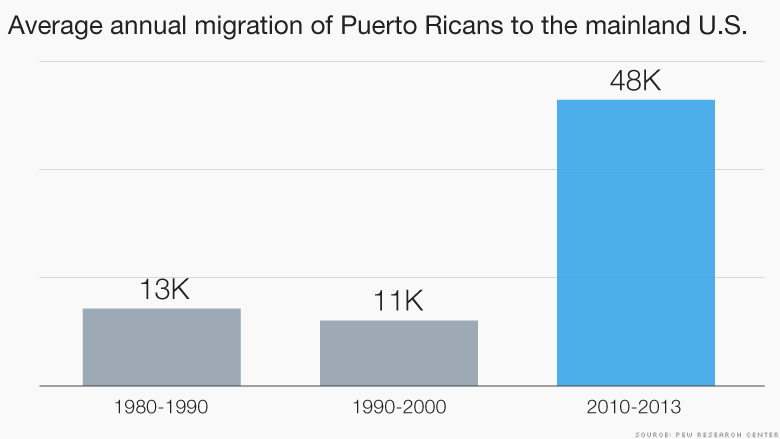 States in the mainland United States can let their towns and cities declare Chapter 9 bankruptcy when they can't meet their debt obligations. Detroit, for instance, declared bankruptcy in the state of Michigan.
But because of an old Congressional law change in the 1980s, Puerto Rico doesn't have access to Chapter 9 bankruptcy. Nor is Puerto Rico a sovereign nation so it can't call the International Monetary Fund or World Bank and ask for a bailout.
There's no clear way out.
Some experts argue that Chapter 9 bankruptcy is not for Puerto Rico. They say it would give the Commonwealth an easy way out and wouldn't provide fundamental changes that the economy needs.
"Providing Puerto Rico with access to Chapter 9 would allow the territory's government to avoid fixing the fiscal and structural issues that placed the Commonwealth on this downward trajectory in the first place," says Arturo Porzecanski, an economics professor at American University.
Related: Puerto Rico debt plan falls $14 billion short
Still, Pierluisi, along with New York Senator Chuck Schumer, is trying to convince U.S. Congress to grant Puerto Rico Chapter 9. Both have proposed bills to give Puerto Rico the option. But neither bill has gained much momentum in Congress.
Schumer isn't happy either.
Related: Puerto Rico just defaulted for the first time
"I've been disappointed by the lack of urgency with many of my colleagues," Schumer said Tuesday. Chapter 9 bankruptcy is not "a silver bullet but it helps and it's needed dramatically."
Puerto Rico faces a slew of challenges beyond its debt too. Congress has cut Medicaid and Medicare spending on the island. Unemployment is going up and Puerto Rico's economy has been in recession for years. There's also a severe water shortage that's forced the government to turn off tap water for days at a time in some towns.
The lack of action from Congress on health care spending and bankruptcy only ratchets up the feeling that Puerto Ricans are second class citizens, argues Pierluisi.
"This is not just a Puerto Rico problem, this is an American problem, requiring an American solution," Pierluisi said.