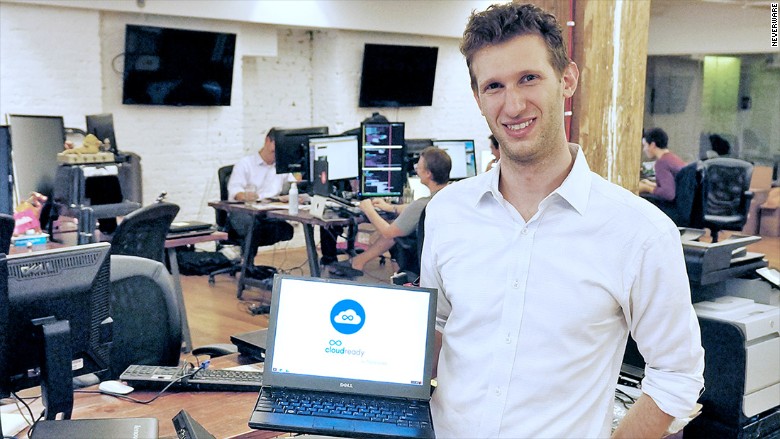 Jonathan Hefter is passionate about two things: education and problem solving.
The 29-year-old has put both at the heart of Neverware, the startup he founded in 2011. Neverware created software that revives old school computers and gets them running like new again.
"Why are we constantly replacing computers when there's still latent power in them?" said Hefter, who uses a 2008 Dell laptop.
The company worked with Google (GOOG) to develop a cloud-based operating system called Cloudready. Built on Google's browser-based Chromium operating system, it basically converts existing PCs and Macs into a Google Chromebook.
Related: How one high schooler made $80K (without getting a job)
To install Cloudready, schools get a USB drive with the new operating system on it, which takes just a few minutes to install.
Cloudready runs entirely on the web, utilizing Google's online apps -- like Google Drive to store files or Google Docs to create documents.
By running everything in a web browser, the operating system puts much less strain on the computer's hardware and can make the old machines feel new again. (It works with any computer manufactured in the last eight years.)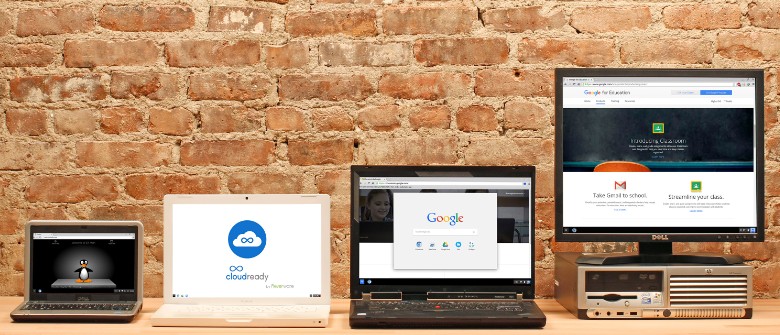 Schools can opt for an annual license of $25 per machine or a lifetime license of $59 per machine, which includes four years of technical support. (Neverware estimates that Cloudready adds at least four years to a computer's life.)
Hefter said the company already has nearly 100 school districts as paid subscribers.
Related: This is how you make math fun
Budget-strapped schools are actively embracing Cloudready. The Upper Sandusky E.V. School District in Ohio is one of them.
"A couple of industries here have shut down over the years. When that happens, we also lose that tax base and the money that came from it to support schools," said said Jim Frye, the school district's technology coordinator.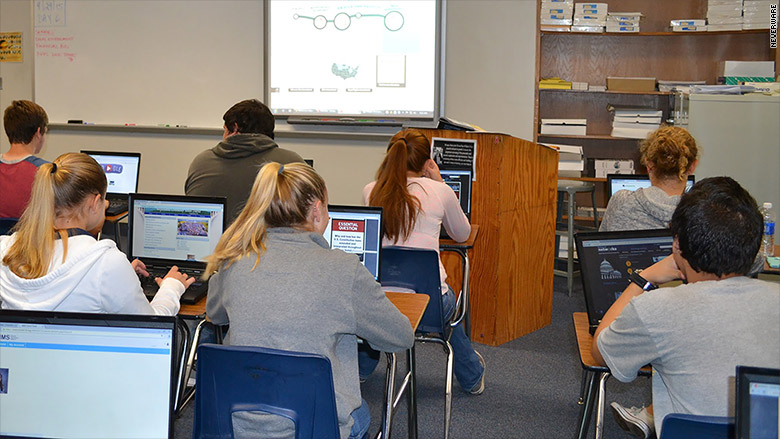 It's forced the district's administrators to think outside the box.
"I was intrigued [by Cloudready]. We can't cut back on computer education because it's critical for most jobs that we're preparing our kids for," said Frye. "You have to be computer proficient to apply for a job at Wal-Mart (WMT), a job in the military or to go to college."
The district's schools, which introduce their 1,800 students to computers beginning in kindergarten, have 650 laptops and desktops, 30% of which were aging. Cloudready has revived all of them, said Frye.
Related: This is how you make math fun
Michele Cina is the head of IT for the Susquehanna Community School District in Pennsylvania.
It's a low-income, rural area where 80% of the students qualify for free or reduced school lunch. Needless to say, money is top of mind for school administrators.
"We have 800 students, and our budget is small," she said.
"I bought Cloudready in April for five computers and it turned our eight-year-old machines into Chromebooks in five minutes," she said. Since then she's installed it on at least 100 computers.
"We've saved over $5,000 and we have updated, functioning computers for our students," said Cina.
Related: Why teachers are ditching report cards
Neverware has raised $6 million in funding, and wants to target international schools as it grows. It already has pilot programs in 10 countries, including Australia and Brazil.
"We've literally walked into schools and blown the dust off old computers and brought them back to life," Hefter said. "I've always had an active imagination. It's what has driven me to find alternative solutions."