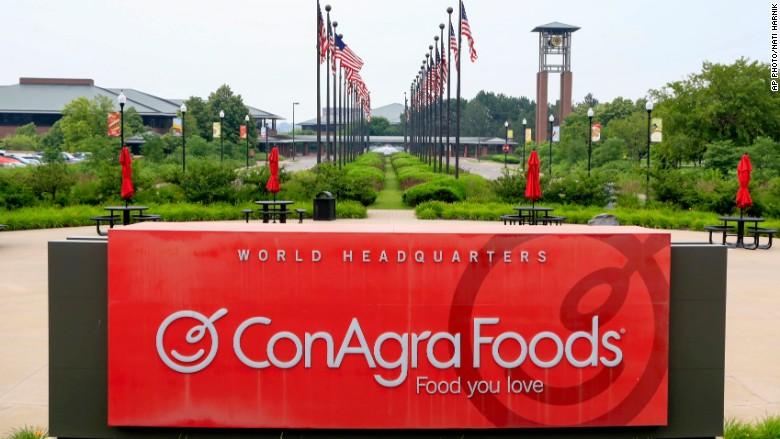 ConAgra Foods, the maker of Slim Jims, Peter Pan peanut butter, Orville Redenbacher popcorn and Chef Boyardee, is cutting 1,500 jobs and moving its headquarters from Omaha to Chicago.
ConAgra (CAG) said Thursday that the layoffs will affect workers in the company's corporate offices worldwide and not at any of its food production plants.
The company expects to save at least $300 million over the next few years as a result of the restructuring.
ConAgra joins a growing list of blue chip companies that have announced layoffs in recent months, including Kraft Heinz (KHC), Hewlett-Packard (HPQ), Caterpillar (CAT), Halliburton (HAL), Whole Foods (WFM) and Microsoft (MSFT).
But the company's move to Chicago is also a big blow to the Cornhusker State.
Related: 8 biggest job killing companies of 2015
ConAgra was founded in 1919 through the merger of four flour mills. The company was first known as Nebraska Consolidated Mills and was headquartered in the town of Grand Island.
Nebraska Consolidated Mills changed its name to ConAgra in 1971 and moved its headquarters to Omaha in 1988.
Omaha Mayor Jean Stothert was not immediately available for comment about the move.
The city still is home to several other giant corporations such as insurer Mutual of Omaha, railroad Union Pacific (UNP) and, of course, Warren Buffett's Berkshire Hathaway (BRKB).
In fact, Berkshire Hathaway has occasionally been mentioned as a company that might want to one day purchase ConAgra, given its Omaha roots.
Related: Buffett fans splurge on ice cream, ketchup and bras
Berkshire Hathaway is also a big player in the food business, thanks to its large stake in Kraft Heinz and ownership of Dairy Queen and See's Candies.
Warren Buffett's son Howard also once served on ConAgra's board of directors.
Buffett was not immediately available for comment about what he thinks about the departure of ConAgra.
ConAgra CEO Sean Connolly said in a statement that the company will "retain a major presence in Omaha, where we have deep roots," but added that the company was making "difficult" and "necessary" decisions to help boost productivity and profits.
There were no details in the release about what kind of incentives the state of Illinois and city of Chicago offered ConAgra to relocate.
Chicago Mayor Rahm Emanuel said in a statement that "this decision by ConAgra Foods further solidifies Chicago's role as one of the world's leading destinations for food processing companies."
Chicago is also home to Tootsie Roll (TR), the Quaker Oats subsidiary of Pepsi (PEP), Morton Salt and the iconic Wrigley Company, which is now owned by Mars.
Kraft Heinz is also moving the headquarters for its Kraft division from suburban Northfield, Illinois to downtown Chicago.