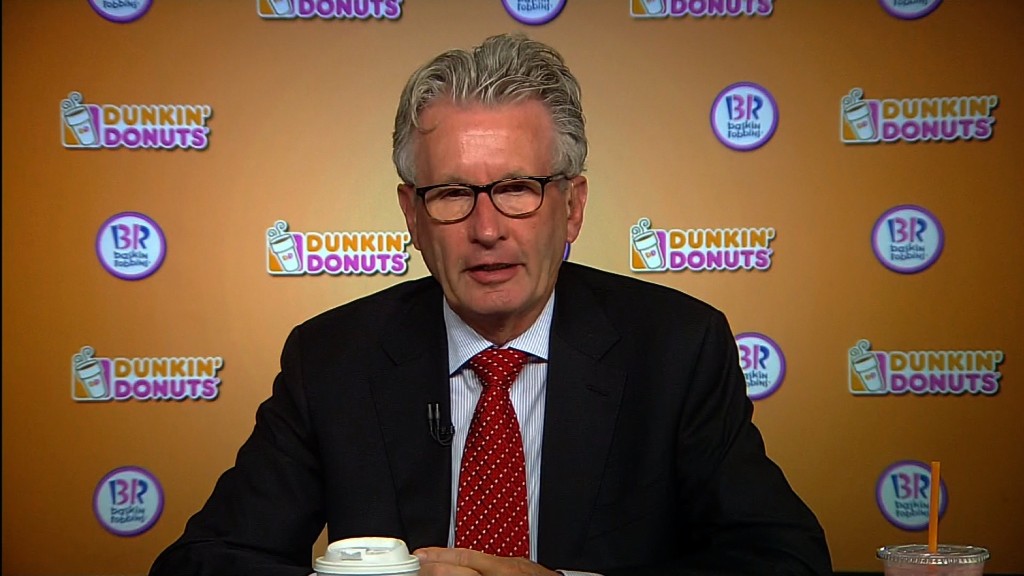 America may not run on Dunkin' after all.
Dunkin' Brands, the parent company of Dunkin' Donuts and the Baskin-Robbins ice cream chain, announced Thursday that one of its franchisees plans to close 100 Dunkin' Donuts stores in the United States this year and next.
The company did not provide a list of what stores would be closed, but said that they were all owned by the Speedway gas station and convenience store chain.
Dunkin' stressed that the store closings represent a tiny fraction of its overall revenue and reiterated that it plans to still open more new stores in California soon as well as internationally.
Grant Benson, vice president of global franchising and business development for Dunkin' Brands, added that the stores were not being closed due to poor performance.
But Dunkin' Brands (DNKN) also lowered its outlook for the third quarter -- to just 1.1% same-store sales growth -- as fewer customers came to the stores.
And it issued earnings guidance for the year that was a bit below Wall Street's consensus estimates.
Related: All-day breakfast from McDonald's starts nationwide on October 6
Investors acted as if Dunkin' just spilled a scalding hot Box 'O Joe in their laps. Shares plunged more than 12% on the news.
Dunkin' disclosed the news in a regulatory filing before its annual investor and analyst day Thursday.
During the presentation, Dunkin' Donuts U.S. and Canada president Paul Twohig said the company was disappointed with results in the U.S.
He stressed that Dunkin' was taking steps to improve its menu offerings in order to boost sales. The company touted new products like a Pumpkin Macchiato and Maple Bacon Square Donut.
Related: Poached! Bird flu leads to egg shortage and sky-high prices
Dunkin also cited volatile commodity prices as a problem, particularly the spike in egg prices due to the avian flu outbreak in the U.S.
Twohig added that the company and its many franchisees are also "anxious" about minimum wage hikes that are set to go into effect across the country.
In New York, for example, a $15 an hour minimum wage for fast food workers will soon be phased in over the next few years.
Many fast food executives have expressed concerns about higher wages, including Dunkin' CEO Nigel Travis. He told CNN's Poppy Harlow in July that a $15 hourly minimum wage would be "outrageous."
Related: Buffalo Wild Wings CEO says $15 minimum wage will hurt teens looking for work
But Dunkin' clearly faces challenges that go beyond labor and food costs. There is an intense battle for coffee and breakfast lovers.
Krispy Kreme (KKD) has struggled due to the competition. McDonald's (MCD) just made breakfast an all-day option. Starbucks (SBUX) continues to dominate the coffee market. And Tim Hortons, owned by Burger King parent company Restaurant Brands (QSR), has also been posting strong levels of growth lately.
Some analysts have also expressed concerns about promotional gimmicks, such as this week's National Coffee Day. Dunkin' executives said Thursday that traffic was strong at the stores on National Coffee Day.
But it remains to be seen what giving away medium hot and iced dark roast coffee for free did to the company's profits.