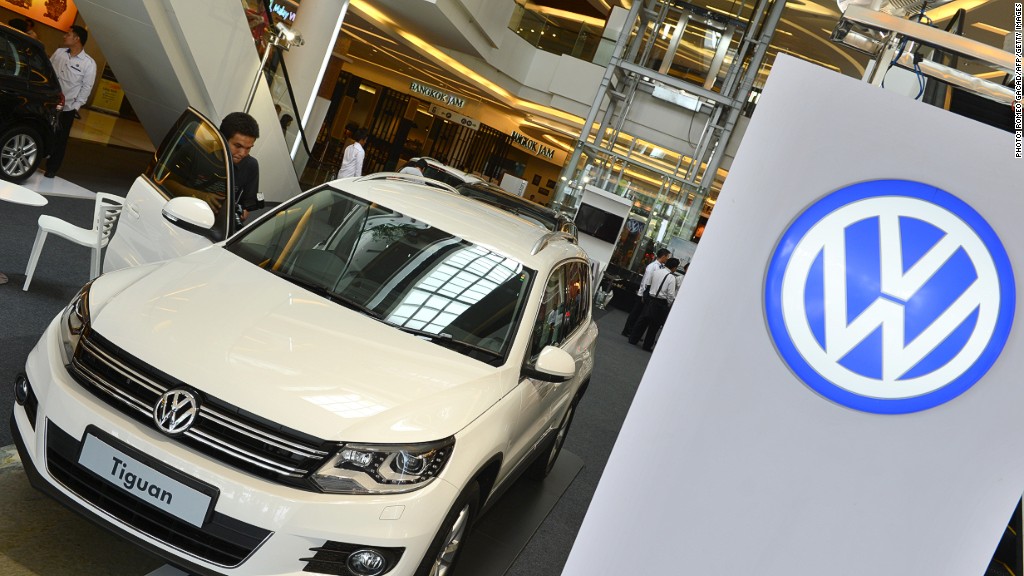 As if the Volkswagen scandal wasn't bad enough for Germany's reputation, state prosecutors admitted Thursday that they jumped the gun by announcing an investigation into the company's former CEO.
In a statement on Monday, prosecutors in Volkswagen (VLKAY)'s home state of Lower Saxony said they had launched a preliminary investigation into Martin Winterkorn on suspicion of fraudulently selling diesel vehicles with rigged exhaust emissions.
Now they have been forced into an embarrassing U-turn.
"The first press release incorrectly mentioned a preliminary investigation against Dr Winterkorn," the state prosecutor's office said. "Such an investigation has not been opened against him. Dr Winterkorn is not a suspect in this matter."
Winterkorn resigned a week ago after the company admitted it may have falsified emissions data on 11 million vehicles worldwide. The scandal first came to light a few days earlier when U.S. regulators revealed that the group had programmed nearly 500,000 cars to emit far fewer harmful gases in official tests than in normal road driving.
Winterkorn said he was stunned by the scale of the misconduct. In his resignation statement, he said he accepted responsibility for the scandal, but insisted he had no knowledge of the manipulation of emissions tests.
Related: Volkswagen diesel scandal...in two minutes
The prosecutor's office said it regretted the confusion, which it said stemmed from an administrative error. It had failed to distinguish between the process of opening a case file, and the launch of a formal preliminary investigation following confirmation of initial grounds for suspicion.
Prosecutors are pursuing a wider investigation against unnamed employees at Volkswagen with the aim of establishing who was responsible. The company has suspended an unknown number of employees. It has not named them.
Volkswagen is also conducting its own inquiry, and has hired top U.S. law firm Jones Day to carry out an investigation that will take several months to complete.
If found guilty of serious fraud, Volkswagen executives could face a hefty personal fine or as much as 10 years in jail.
The automaker it preparing to refit the affected vehicles to ensure they comply with pollution limits, and promised to publish more information about the technical fix next week. It has also released more details about which cars are affected, and where.
Related: Houston sues Volkswagen for polluting its air
In total, about five million VW branded cars and 1.8 million VW light commercial vehicles are affected worldwide. Other group brands such as Audi (2.1 million cars), Skoda (1.2 million cars) and Seat (700,000 cars) are also involved.
About 2.8 million of the vehicles are in Germany, roughly 1.2 million in the U.K, nearly one million in France, and almost 700,000 in Spain.
Customers will be told soon whether their vehicle needs a refit, and the technical details will be presented to regulators in October. National websites are being set up to keep customers informed over the coming weeks and months.
Related: Will anyone go to jail over Volkswagen diesel scandal?
-- CNN's Chris Liakos contributed to this article