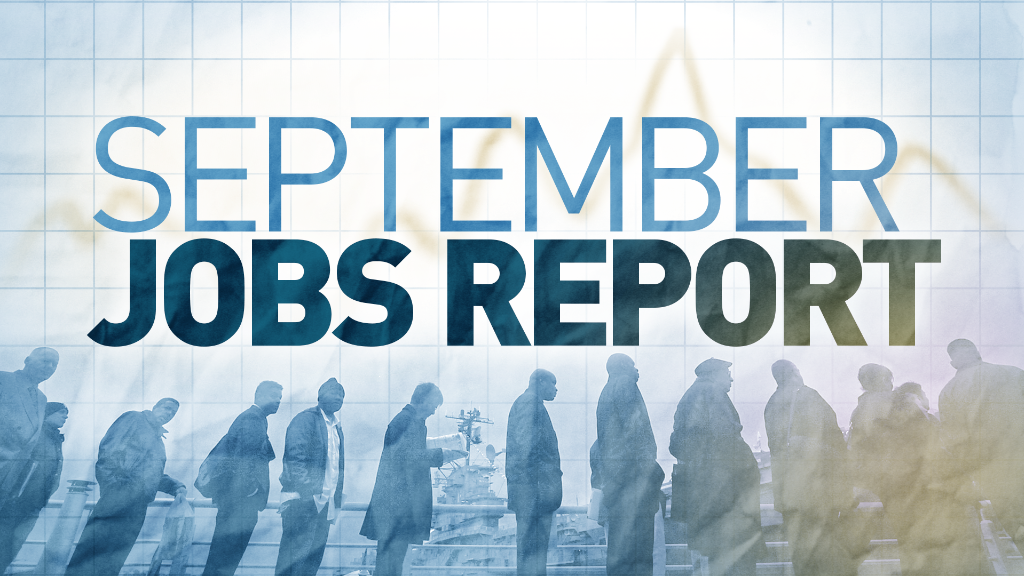 Don't bank on the Federal Reserve raising interest rates this year.
That's the clear message from the financial markets after Friday's ugly jobs report.
The Fed spent much of 2015 preparing Americans for their first interest rate hike in nearly a decade. But the global -- and U.S. -- economies are not cooperating.
Related: Fear & Greed Index is flashing 'extreme fear'
Virtually no chance of October rate hike
There were just 142,000 jobs created in September, badly missing estimates. Fewer jobs were added in July and August than previously believed, too.
Now Wall Street sees just a 27% chance of the Fed raising rates in December, according to CME Group's FedWatch, a futures tool that traders use to bet on the likelihood of Fed rate changes.
That's down from 42% on Thursday.
And the probability of an October rate hike? Close to none. It's now at 5%.
While Fed chief Janet Yellen insisted October was a "live" meeting, it wasn't seen as a realistic time to move on rates anyway because there's no press conference scheduled.
The "simply dreadful" jobs report raises fresh doubts about the U.S. economy and ability of the Fed to raise rates "not just this month, but this year," Win Thin, a currency strategist at Brown Brothers Harriman, told clients in a note.
Related: Setback city: September jobs report disappoints
Bond markets don't see a rate hike either
Other metrics are also flashing warning signs about a rate hike.
Just look at dramatic swings in the bond markets. The 10-year Treasury yield plummeted to 1.91% on Friday. That's a huge reversal compared with 2.05% before the jobs report was released.
Short-term U.S. government debt yields also tumbled.
"It's telling us the market may be pricing in a rate hike later in 2016," said Sharon Stark, fixed income strategist at D.A. Davidson.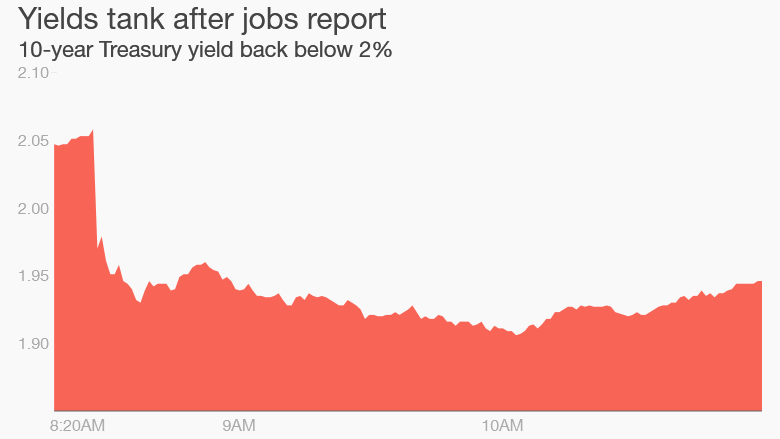 Stocks, dollar in retreat mode
The U.S. dollar also lost ground against its rivals after the jobs report. Lower rates make currencies less attractive to investors.
The stock market took a big hit. The Dow tumbled as much as 250 points amid renewed concerns about the economy and frustration over the muddied outlook on interest rates.
All of this turmoil was great news for gold bugs. Gold spiked 2.4% to $1,140 an ounce in response to the weaker dollar and increased worries about the health of the U.S. economy.
Related: Bad news is bad news: Stocks tank on jobs report
It's not the final jobs report of 2015
Of course, it's too early to say the Fed definitely won't raise rates later this year. There are still two more jobs reports scheduled for release before the Fed's final meeting of the year.
Moreover, San Francisco Fed President John Williams told reporters on Thursday that job growth would only need to surpass 100,000 or 150,000 for him to be in favor of a rate hike.
Related: Third quarter was brutal. But these stocks won
Global slowdown, market turbulence hitting jobs
Still, not only were fewer jobs added in September than hoped, but wages growth remains elusive. Average hourly earnings were flat in September from the prior month, dashing estimates for a rise of 0.2%. The average work week also declined slightly.
"We see broad-based weakness in the U.S. labor market," Barclays economist Michael Gapen wrote in a research report. He believes the lackluster September report reflects "deceleration in activity abroad, and, more recently, the pickup in financial market volatility domestically."