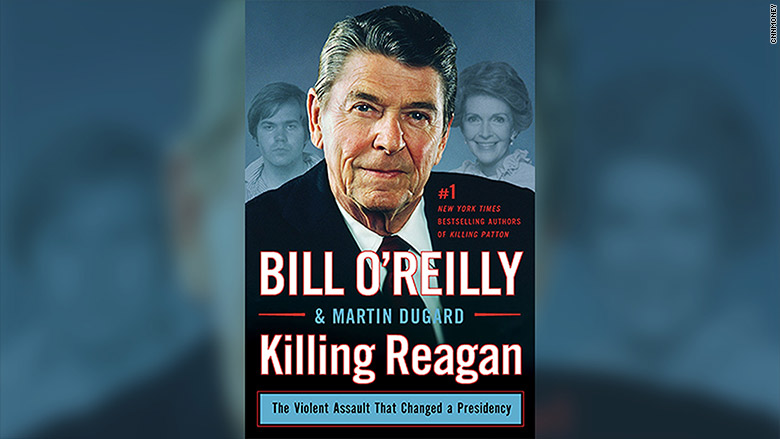 The King of Cable News has once again staked his claim as the King of Nonfiction.
"Killing Reagan," the latest in the Fox News host Bill O'Reilly's blockbuster series on historical figures, has topped the most recent edition of the New York Times best sellers list for hardcover political books. The book, released Sept. 22, is ranked sixth on Amazon's best sellers list of all books.
"Killing Reagan," which chronicles Ronald Reagan's rise to power and "the forces of evil that conspired to bring him down," sold 112,000 copies through Sept. 27, according to Nielsen BookScan.
The actual number may be even higher. Nielsen BookScan covers about 85 percent of the print book market, but does not include data for eBooks.
It's familiar territory for O'Reilly, whose "Killing" series has been wildly successful since it debuted in 2011. A CNNMoney analysis in March found that the "Killing" books, which O'Reilly has co-authored with Martin Dugard, had sold a total of 6.8 million books.
Related: Bill O'Reilly's 'Killing' machine: 6.8 million books sold
"Killing Reagan" follows last year's "Killing Patton," which topped the Times list following its release. "Killing Lincoln" and "Killing Kennedy" each topped the list in 2011 and 2012. "Killing Jesus," which was released in 2013, was adapted into a made-for-TV movie. The film was the highest-rated broadcast in National Geographic Channel's history.
The "Killing" series has proven to have staying power, with several of the titles cracking the Times best sellers list in the years after their release. In fact, "Killing Lincoln" ranks eighth on the current list of best selling hardcover political books, giving O'Reilly two books in the top 10.
But the "Killing" books have been widely criticized by members of academia. Annelise Anderson, a Reagan biographer and research fellow at Stanford University's Hoover Institution, said that O'Reilly's latest book distorts the 40th president's legacy.
"Maybe five books in five years, each on a different personality and era, is more than anyone short of a genius can manage," Anderson wrote at the National Review.
O'Reilly dismissed this criticism, telling The Daily Caller that he's taking heat because he didn't portray Reagan "as God."
In the past, O'Reilly has said that the "Killing" series is commercially successful because the books are more compelling than others in the historical genre.
"I always felt that history is fascinating, but the books are boring, and if you can write exciting books you would sell a lot of copies and have movies made of them," O'Reilly said last year. "And that's all come true."