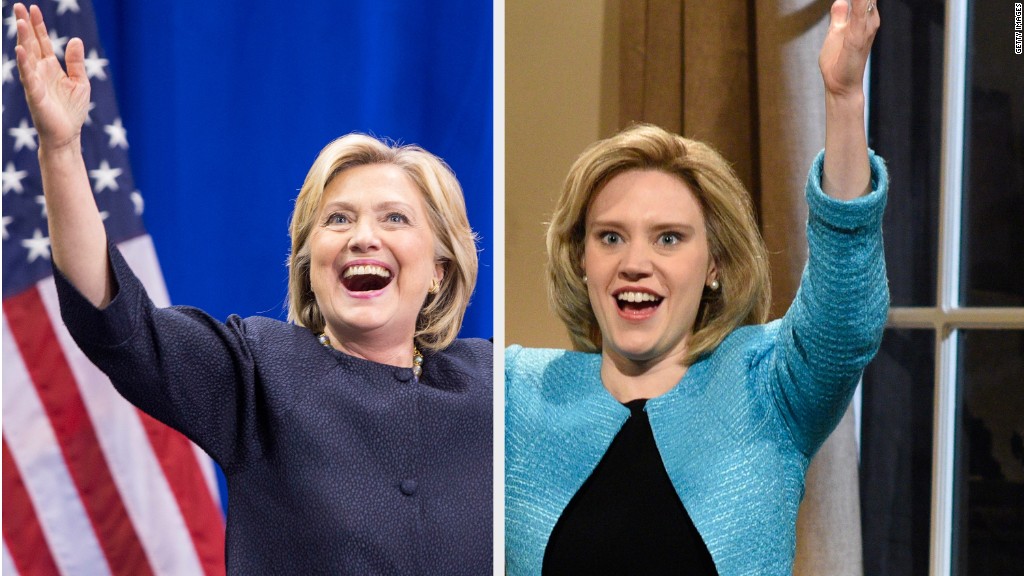 Hillary Clinton met her "SNL" counterpart and won laughs Saturday night with her imitation of Donald Trump.
The Democratic frontrunner appeared on the 41st season premiere of NBC's "Saturday Night Live" playing a bartender named "Val" who kept the drinks coming to cast member Kate McKinnon's downhearted Clinton character.
"Oh Val, I'm just so darn bummed. All anybody wants to talk about is Donald Trump," said McKinnon's Clinton.
"Donald Trump? Isn't he the one that's like, 'Uh, you're all losers?'" the real life Clinton responded in a deeper than usual voice as she mocked the outspoken Republican candidate.
The moment sent the "SNL" audience into a fit of laughter.
McKinnon's Clinton continued that she wanted Trump to win the primaries so she could "destroy him, and mount his hair in the Oval Office."
At one point, "SNL" announcer Darrell Hammond appeared in the bar in his classic role as Bill Clinton.
Hammond's Clinton looked alarmed when he saw the two Hillarys and yelled, "Oh my God! They're multiplying" before running off screen.
McKinnon's Clinton said that "Val" was really easy to talk to, which Clinton said was the first time she had "ever heard that."
"Oh Val, I wish you could be president," McKinnon said.
"Me too!" Clinton responded to cheers.
Related: Hillary Clinton gushes about SNL alter egos ahead of tonight's appearance
The much anticipated segment made Clinton the brunt of the jokes over how long it took her to come out against the Keystone pipeline and support gay marriage.
But her appearance on SNL was also the latest television appearance by Clinton meant to show her in a more likeable light and boost her sagging poll numbers.
"A vote for Hillary is a vote for four more years of Kate McKinnon's impression," Clinton tweeted as soon as the sketch with McKinnon ended.
Clinton wasn't the only person impersonating Donald Trump on Saturday night.
"SNL" castmember Taran Killam showed off his newly won role as the business magnate during the show's cold open.
It was an impersonation that Trump apparently approved of. Trump retweeted a user during the show who said, "@TaranKillam plays a way better fake @realDonaldTrump than a real @HillaryClinton plays herself."