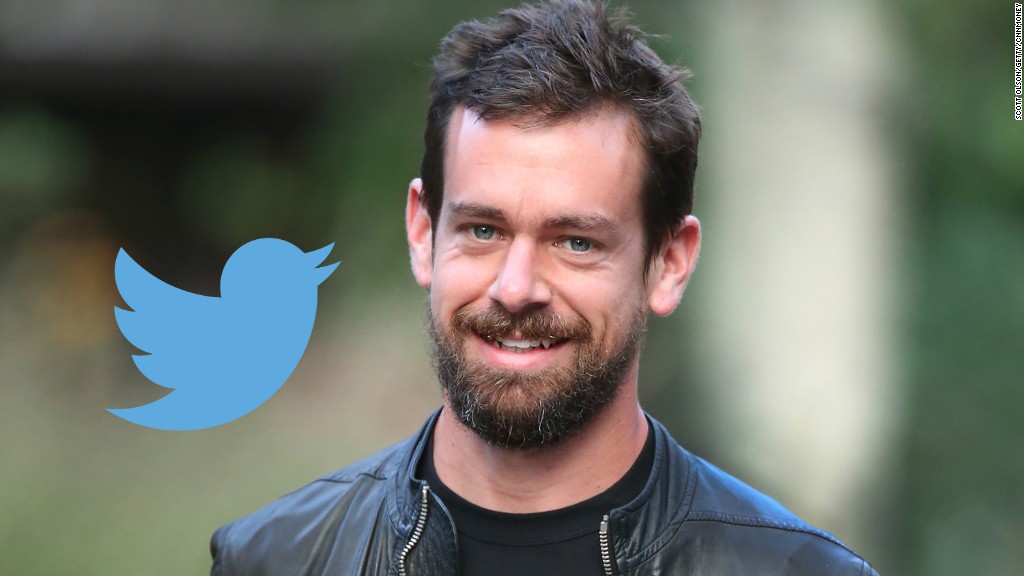 Jack Dorsey is Twitter's new CEO -- permanently.
Investors had been calling on the company's board to appoint co-founder Dorsey as permanent CEO since July 1, when he was named interim chief after Dick Costolo stepped down. Twitter made it official Monday morning.
Dorsey will also remain CEO of Square, a mobile payments startup he also co-founded that is reportedly preparing for an IPO.
Whether he would hold the top job at both companies had been a matter of speculation.
Shortly after Twitter named Dorsey interim CEO, the board put out a statement that seemed to rule him out of the running, saying it only wanted candidates "in a position to make a full-time commitment to Twitter."
But Dorsey tweeted on Monday that "I've been CEO of both companies for over 3 months now. I have the smartest, strongest, and most determined leaders in the world on my teams."
Twitter director Peter Currie, who led the search committee for a new CEO, said the company interviewed a wide range of candidates and found that Dorsey was "not just meeting but surpassing expectations as CEO."
Twitter said in an SEC filing that there are currently no plans to provide Dorsey with any compensation for his role as CEO. But Dorsey is one of Twitter's largest shareholders. His stake in the company is currently worth $575 million.
Dorsey co-founded Twitter (TWTR)in 2006, as social media networks were gaining popularity. It quickly took off as an easy and efficient tool to chat and share information online, especially among the tech and media communities, but failed to gain traction among new users.
Dorsey acknowledged this sentiment during a recent Twitter earnings call.
To turn around, Dorsey said Twitter must do three things: have more "disciplined execution"; simplify so people can learn how to use the service faster; and market it better so people understand why it's important.
"'Why Twitter' must be articulated clearly," Dorsey said. "What should you expect from Twitter? To be as easy as looking out your window to see what's happening. To show you what's happening in the world [first], directly from the source."
Over the past year, Twitter's stock has plunged more than 25% and is hovering around $26, the price when the company first sold shares to the public in November 2013. Shares rose more than 7% on Monday.
Dorsey will no longer serve as Twitter's chairman, and Currie said the company was actively looking for someone to fill that role.
Twitter also announced that it was promoting Adam Bain, its head of revenue and partnerships, to the role of chief operating officer.
Bain is highly respected at Twitter and has been an instrumental in signing new partnerships at the company, included a recent deal with the National Football League.