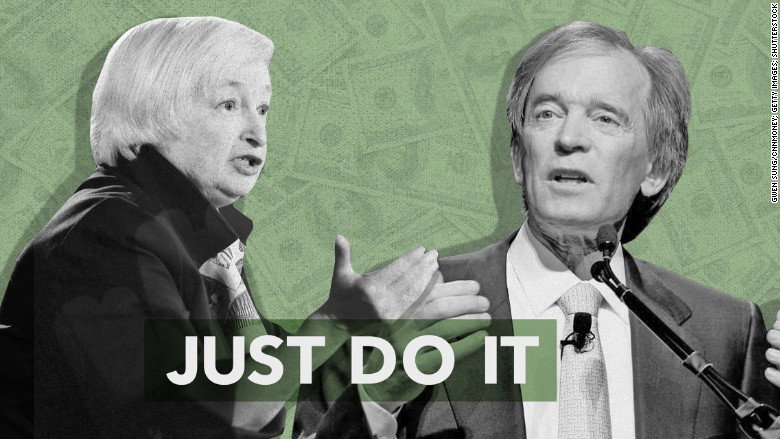 Many people think the time has come for the Federal Reserve to wean the U.S. economy off easy money.
They point to improvements in the jobs market, the bull market in stocks and auto sales that have rocketed higher.
But Bill Gross, the dethroned "king" of the bond markets, is taking it a step further. He argues the very existence of capitalism is threatened by the Fed's extremely low interest rates.
"Zero percent interest rates is destructive to the real economy because capitalism can't survive at zero percent. It wasn't meant to be that way," Gross, a prominent bond fund manager at Janus Capital, told Bloomberg Radio on Monday.
Related: CNNMoney's Fear & Greed Index still shows Fear ... but it least it's not Extreme Fear
Gross was venting about the Fed's decision last month not to raise interest rates for the first time in nearly a decade. The central bank pointed to turbulence in the global economy, especially in China.
Riskless bets could to instability
However, critics argue Fed policy has distorted risk taking. It's forced investors into riskier and riskier assets because money in the bank earns virtually nothing.
That's why junk bond issuance has surged since the financial crisis. It suggests that struggling companies that wouldn't normally be able to get a loan are now being kept alive by junk bonds.
Gross is concerned that the Fed's policies may create instability. He pointed to unintended consequences when investors use cheap money to make what they think are "riskless" bets.
"Ultimately, as in the case of energy for instances or housing in some areas, those bubbles pop," Gross told Bloomberg.
Related: Carl Icahn sees a bubble in junk bonds
Economy needs infrastructure spending, not low rates
Gross believes the U.S. economy would be better served by a jolt of government spending -- especially to fix the country's crumbling roads and bridges.
"We need fiscal spending to prop up the economy because it's obvious that monetary policy has been exhausted," he said. "It stabilized the financial crisis but it's not doing much for the real economy."
Stronger government spending would please followers of John Maynard Keynes who believe the economy can be energized by stronger government spending and lower taxes.
"Keynes would be popping out of his grave in horror," he said.
Related: Are there dead unicorns on the horizon?
This marks the latest push by Gross to convince the Fed to raise rates. Late last month he wrote in his monthly investment letter the Fed needs to "get off zero now!"
Gross helped build Pimco into a giant investment house but left the firm last year amid turmoil. Today he manages about $1.4 billion in Janus' global unconstrained fund, a fraction compared to the nearly $300 billion he once controlled at Pimco's signature fund.