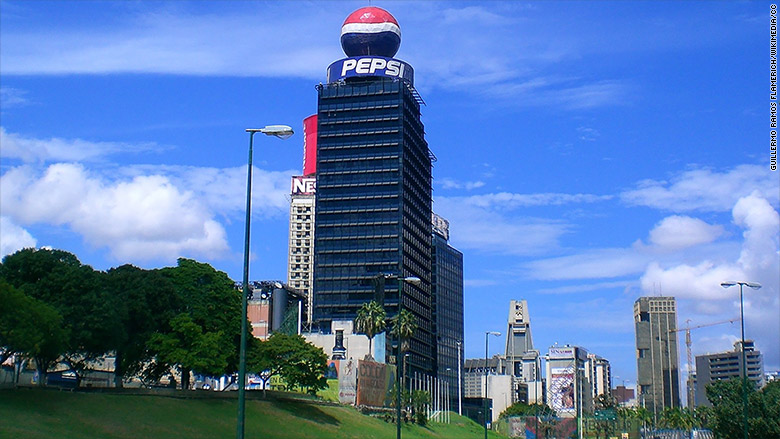 Pepsi is getting hit hard in Venezuela.
On Tuesday, Pepsi (PEP) reported a massive $1.4 billion charge for its business in Venezuela, citing the country's uncertain currency, economy and political outlook.
It's another sign that Venezuela's skyrocketing inflation, confusing currency laws and plummeting economy are weighing down major U.S. companies.
Sales in Venezuela only make up 2% of Pepsi's revenue. In the third quarter, Pepsi's total revenue was $16.3 billion. By that math, Pepsi only got $326 million in sales from Venezuela while it took a $1.4 billion charge from its business there.
The one-time charge -- or "write down" -- helps the company offer investors more certainty about its future earnings.
Related: Venezuela's currency is worth less than a napkin
A Pepsi spokesperson emphasized that it was a one-time accounting charge. Going forward, Pepsi will not take future charges on its Venezuela business.
That doesn't mean that Venezuelans won't get to drink Pepsi. The company will continue to do business there.
"Despite our change in the accounting for our Venezuela operations and the related accounting charges, we remain dedicated to serving the Venezuelan marketplace," Pepsi CEO Indra Nooyi said in a statement.
Related: 5 reasons why Venezuela may be the world's worst economy
Since the beginning of the year, the U.S. dollar has gained 379% on Venezuela's currency, the bolivar. In January, one U.S. dollar was worth 173 bolivars. Today, it's 829 bolivars, according to dolartoday.com, which tracks Venezuela's unofficial currency exchange rate -- the rate most Venezuelans get for their dollars.
What's confusing is that Venezuela has four different exchange rates, not including the unofficial rate. There is a different official rate for regular folks and others for exports and government purchases.
Pepsi isn't alone. Companies of all stripes, from Ford (F), General Motors (GM) and IBM (IBM) to DirectTV (DIRV) and Citigroup (C) have reported some type of exposure or loss to Venezuela's currency devaluation.
At least 46 of the S&P 500 companies -- nearly 10% of the index -- reported some type of exposure to Venezuela's currency devaluation earlier this year, according to a Bloomberg report.
However, Pepsi did beat analysts' expectations Tuesday and the stock actually bounced up 1.3%. The fact that it won't take future losses from Venezuela is a positive for investors too.