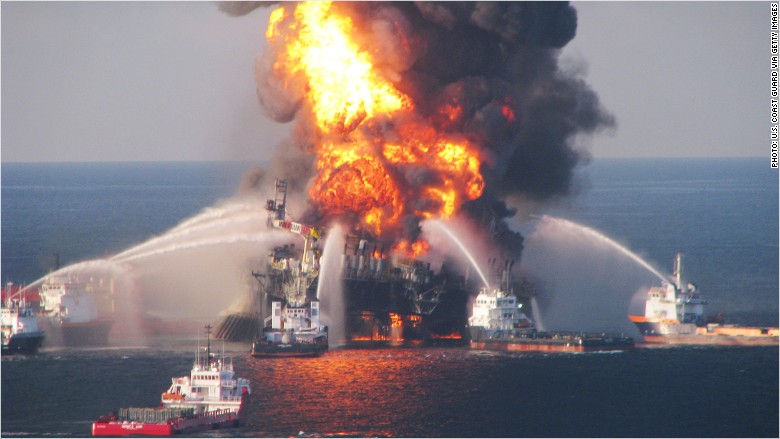 Oil giant BP will pay out more than $20 billion to settle claims against it for the Deepwater Horizon oil spill in 2010.
The deal, announced by the U.S. Department of Justice on Monday, is the largest settlement with a single entity in the department's history.
It is a "fitting response to the worst environmental disaster in American history," Attorney General Loretta Lynch said. BP (BP) was receiving the "punishment it deserves," she added.
The disaster was triggered by an explosion on the BP-contracted Transocean Ltd. Deepwater Horizon rig, which killed eleven of 126 workers on board and spilled approximately 210 million gallons of oil into the Gulf of Mexico.
A BP spokesman said the settlement would resolve the "largest litigation liabilities remaining from the tragic accident." Some smaller claims remain outstanding but will not be material, he added.
The figure reflects a preliminary agreement which was reached in July but includes some payments that BP has already made. The settlement will be used to repair damage to the area's economies and ecosystems.
It was a "historic milestone" which will ensure the Gulf Coast comes back "stronger and more vibrant than before the disaster," Secretary of Commerce Penny Pritzker said.
The settlement totals $20.8 billion, with $5.5 billion tagged for federal Clean Water Act penalties, $8.1 billion for natural resource damage and up to $700 million to address any concerns that are yet to be discovered. Another $600 million is for other claims.
BP will also pay $4.9 billion to Gulf states and up to $1 billion to several hundred local governmental bodies, according to the department. The states involved in the settlement are Alabama, Florida, Louisiana, Mississippi and Texas. The settlement follows 11 felony manslaughter charges which BP pleaded guilty to in 2012.
BP has estimated its total cost for the disaster at $54.6 billion, an enormous sum but one which could yet be surpassed by the cost to Volkswagen (VLKAY) of fixing its diesel emissions scandal.
Credit Suisse has estimated the total cost to the automaker could hit 78 billion euros ($87 billion) in a worst case scenario. The company has described Credit Suisse's calculations as "nonsense."