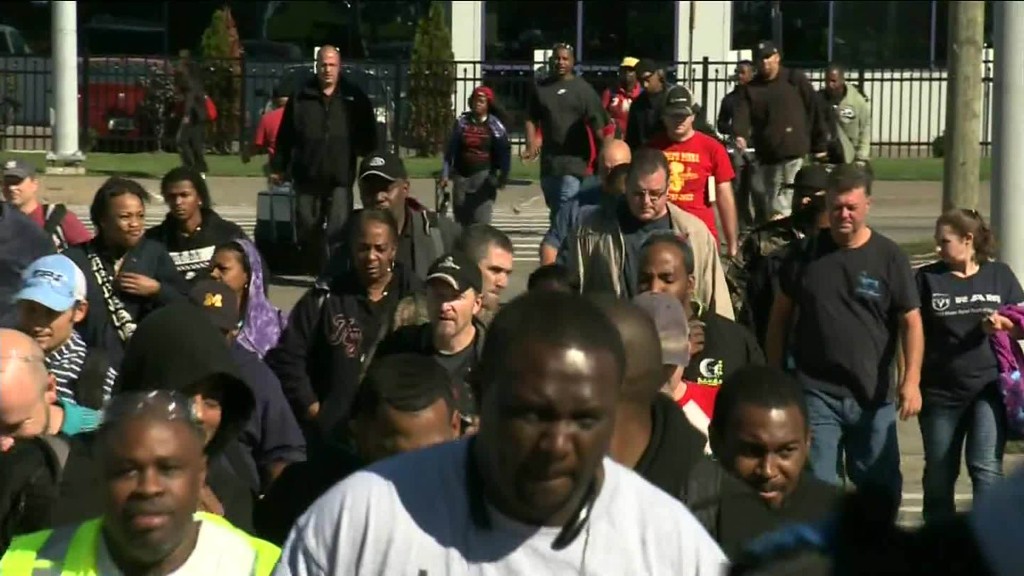 The United Auto Workers union is prepared to strike Fiat Chrysler at 11:59 p.m. Wednesday, the union told the automaker Tuesday.
The strike would be the first in the industry since 2007, affecting about 40,000 workers.
Union leadership had reached a tentative deal with the company for a four-year pact on Sept. 15. But workers rejected that deal by nearly a two-to-one margin last week. Members had already voted overwhelmingly to authorize a strike without a new agreement.
The two sides were negotiating over the weekend, and Fiat Chrysler spokeswoman Jodi Tinson said talks are continuing to avoid a strike.
The rejected deal would have given union autoworkers a 3% raise -- their first pay hike in a decade -- and then another 3% raise in two years. It also called for a variety of bonuses and profit sharing payments.
Fiat Chrysler (FCAU) has a two-tier wage system that gives U.S. factory workers who were hired after 2007 significantly lower pay and fewer benefits than senior workers.
The newer employees make up 45% of workers and earn between $17 to $24 an hour, while veteran autoworkers earn an average of $28 an hour.
While the rejected deal would have narrowed the wage gap, it would not have eliminated it. Nor did it call for any limits on how many workers could be paid at the lower tier. Union contracts at General Motors (GM) and Ford (F) both limit the second tier to 25% of their workforce.
That cap gives lower wage workers the chance to move into the top tier. For instance, earlier this year Ford hired so many new workers that it went over that cap, so it had to move about 800 workers from the second tier up to the first tier.
Related: Auto contract talks - Here's what the workers want
Management at Fiat Chrysler said that the two-tier wage system is not something that can continue forever, but that it can't afford to eliminate it faster. It said in a statement that it needs a contract that could keep the company competitive.
Fiat Chrysler was formed in 2009 after Chrysler went through a bankruptcy and federal bailout at least partly caused by having higher labor costs than nonunion automakers.
Overseas automakers such at Toyota (TM), Honda (HMC) and Nissan (NSANY) pay the workers at their nonunion U.S. plants less than the veteran workers at UAW plants earn.
Even if the UAW does walk out Wednesday night, that doesn't necessarily mean there will be a long strike.
There hasn't been a strike in the auto industry since 2007, when there were brief walk-outs at both General Motors and Chrysler. The Chrysler strike was so brief it lasted less than an entire shift.
Still, a strike at Fiat Chrysler would be the largest walk-out in the U.S. since 45,000 Verizon (VZ) workers went on strike in August of 2011, according to the Labor Department.