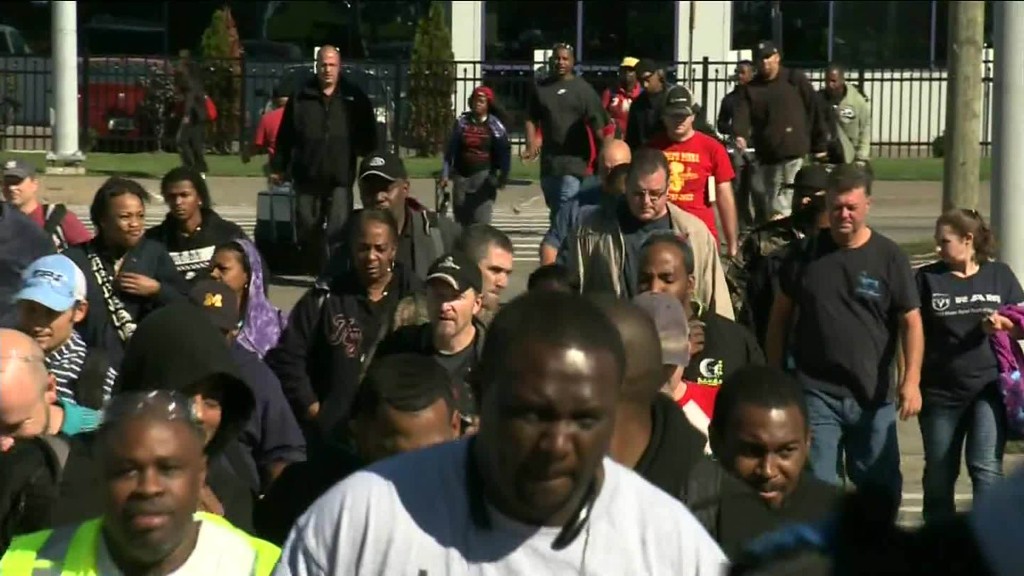 The United Auto Workers union bargaining committee reached a tentative agreement with Fiat Chrysler on Wednesday. The last-minute deal, at least for now, averts a strike by 40,000 workers.
The agreement "addresses our members' principal concerns about their jobs and their futures," UAW President Dennis Williams said in a statement. "We have made real gains and I look forward to a full discussion of the terms with our membership."
But ratification could still be an uphill battle. The rank and file rejected an earlier tentative agreement by a nearly two-to-one margin last week.
The union did not release details of the new deal, saying it would present it to officials from union locals across the nation that represent Chrysler workers. They will meet in Detroit Friday to discuss and vote on the new agreement. Assuming they approve it, it will then be presented to union members again for ratification.
Word of the deal came just before a deadline for what would have been the industry's first strike since 2007.
The rejected deal would have given union workers a 3% raise -- their first pay hike in a decade -- and then another 3% raise in two years. It also called for a variety of bonuses and profit sharing payments.
The key issue in the previous rejection was Fiat Chrysler's (FCAU) two-tier wage system, which gives U.S. factory workers who were hired after 2007 significantly lower pay and fewer benefits than senior workers.
The newer employees make up 45% of factory workers and earn between $17 to $24 an hour, while veteran autoworkers earn an average of $28 an hour.
While the rejected deal would have narrowed the wage gap, it would not have eliminated it. Nor did it call for any limits on how many workers could be paid at the lower tier. Union contracts at General Motor (GM)and Ford (F) both limit the second tier to 25% of their workforce.
Related: Auto contract talks - Here's what the workers want
That cap gives lower wage workers the chance to move into the top tier. For instance, earlier this year Ford hired so many new workers that it went over that cap, so it had to move about 800 workers from the second tier up to the first tier.
Management at Fiat Chrysler did not comment on the deal other than to confirm it had been reached.
The company had said in earlier statements that the two-tier wage system can't continue forever, but that it can't afford to eliminate it immediately.
Fiat Chrysler was formed in 2009 after Chrysler went through bankruptcy and received a federal bailout at least partly caused by having higher labor costs than nonunion automakers.
Labor experts say the union's leadership will need to do a better job explaining the new agreement.
"I think they did a pretty poor job of selling it the first time," said Gary Chaison, a labor professor at Clark University. He said he believes members are willing to vote for the new deal, despite the earlier rejection.