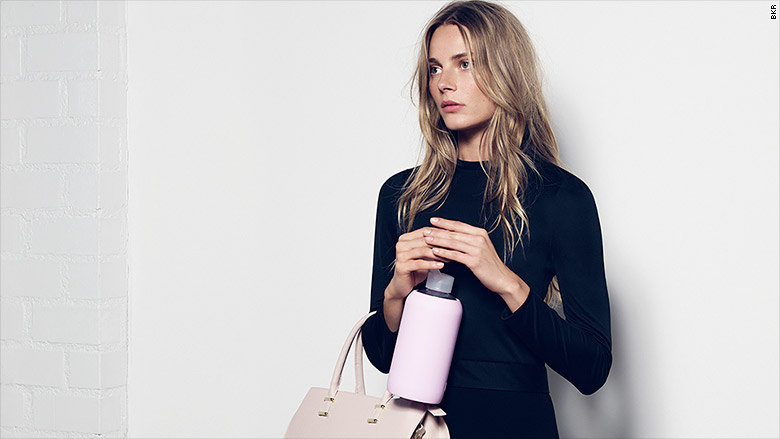 Can drinking water be beautiful?
Bkr, a San Francisco-based company, thinks so. The company specializes in luxury glass water bottles that aim to make the experience more enjoyable.
"Drinking water is the foundation to being healthy and gorgeous," co-founder Kate Cutler said.
"Customers tell us this is the one thing that has gotten them to drink water," Winter said. "One woman said this bottle 'makes drinking water a joy.' Another said she rotates through her bottles at the beginning of each week, depending on her mood -- she has like 20."
The glass bottles are available online and in over 1,000 other stores in 14 countries, including luxury retailer Neiman Marcus.
"We're disruptive because our water bottles are being sold in the luxury beauty departments, which is a strategic choice," Cutler said.
Related: Jessica Alba launches new 'Honest Beauty' line
The company started with 500mL bottles before launching a larger 1L bottle. This week the brand unveiled a new size -- the 250mL "Teeny."
"We're really customer focused," Winter said. "Our customers want to completely say no to a disposable lifestyle -- that includes the tiny plastic water bottles that have become popular."
The 250mL size comes in eight colors and retails for $28. On October 26, bkr will also release a "Teeny" line of bottles with hearts on them.
The startup was founded in 2011 by Winter and Cutler, two former lawyers. They wanted to create something that resembled a plastic water bottle but that didn't leach out toxic chemicals.
"Once you realize how bad plastic is for your health, it's impossible to ignore," Winter said. "We liked the compact size of plastic bottles and the small mouth size but there weren't any glass bottles like that on the market."