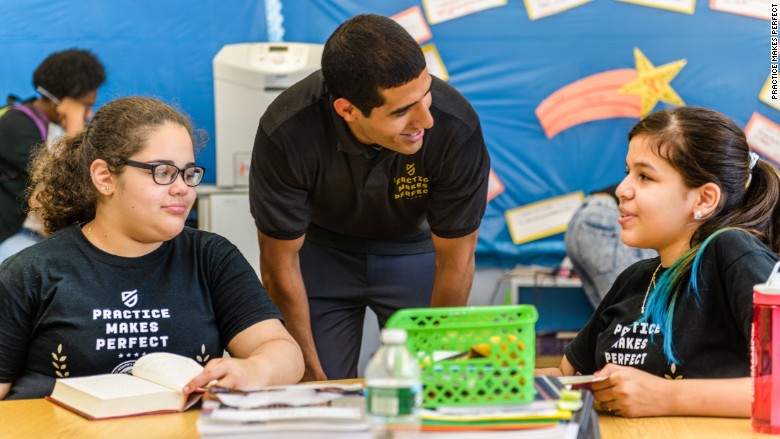 Karim Abouelnaga turned down a job on Wall Street to confront a problem that had set him back as a low-income student: the summer slide.
During the summer months, learning grinds to a halt for many low-income kids while their affluent peers go off to camp.
When that happens, students can lose as much as 30% of what they learned during the school year. The more they fall behind, the less likely they are to graduate from high school or go to college.
So Abouelnaga founded Practice Makes Perfect, a nonprofit K-8 summer program aimed at fixing "this unequal summer learning opportunity."
"When school starts after summer, teachers on average spend a month and a half reviewing old material," he said. "Tack that on to the summer slide and it turns into five months of no learning for some students. That's half a school year."
Related: How one high schooler made $80K without getting a job
Practice Makes Perfect has partnered with four school districts in New York City for its five-week program. Schools pay about $1,250 for each student that's enrolled.
"We pair academically struggling students with high-achieving mentors who are four years older and from the same school and same socioeconomic background," Abouelnaga said
So an 11th grader would teach a 7th grader, and a 4th grader would teach a kindergartner. Each mentor works with four students, and each class is supervised by a college or graduate student. Mentors are given a stipend (between $150 and $1,000) and college prep assistance.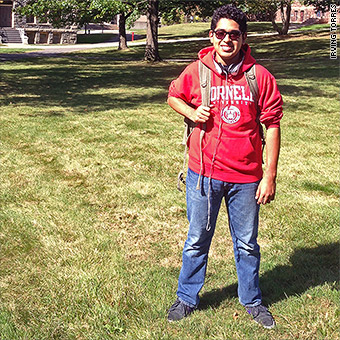 Students primarily focus on math, reading and writing but also participate in cultural activities like art projects, plays and trips to museums.
Practice Makes Perfect, which has an 85% attendance rate, launched in 2011 with 52 students. 300 students participated in the program this year, and Abouelnaga hopes to reach over 1,000 students next year.
Abouelnaga, 23, said students in the program improved their math ability by half a grade level and saw a two-month growth in their reading ability.
Related: This is how you make math fun
Irving Torres, 18, is a sophomore at Cornell, Abouelnaga's alma mater. He became a mentor for Practice Makes Perfect in 2013.
"I'm the oldest of three siblings. My parents immigrated from Ecuador. We struggled as a low-income family," said Torres,
Torres is the first in his family to attend college, and it was eye-opening for him to see how effective peer-to-peer instruction could be.
"I saw the difference from the traditional model where the teacher just comes in and teaches," he said.
The idea for Practice Makes Perfect came from Abouelnaga's own experience growing up in Queens as the son of Egyptian immigrants.
His father passed away when he was 14, and his mom struggled to raise him and his siblings.
"I took up odd jobs like selling candy to make money," he said.
He felt disengaged, but that changed when he was exposed to nonprofits that rewarded promising low-income students. He credits those programs for getting him back on track -- and ultimately getting into Cornell.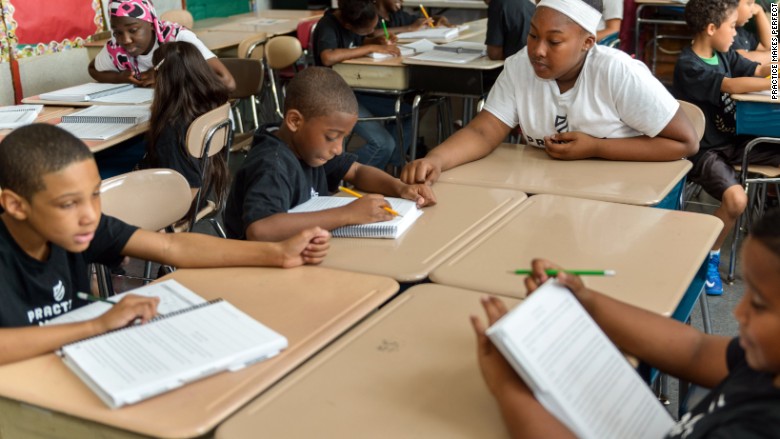 What's next for Practice Makes Perfect, which has raised over $2 million through grants and donations?
NYC has 1.1 million schoolkids, more than 70% of whom are from low-income families.
"That's our focal point right now," said Abouelnaga. "Ultimately we would like to offer it to every student who needs it and completely eliminate the summer learning loss."